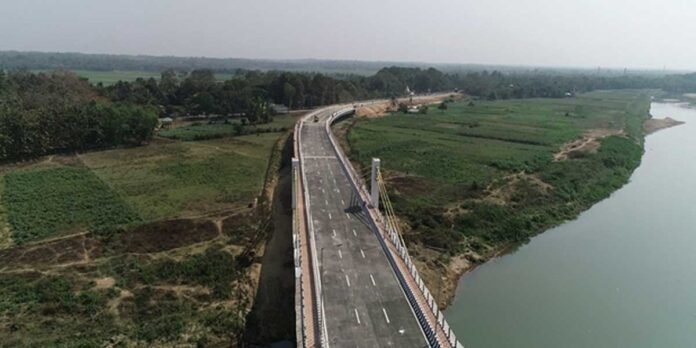 Exciting developments are in motion as India and Bangladesh prepare for the possible inauguration of two crucial cross-border connections in September. Maitry Setu, the bridge connecting the two nations, is set to facilitate passenger movement starting from September 1, while the Agartala-Akhaura rail link might partially open on September 9.
The District Magistrate of South Tripura District recently revealed the potential opening of Maitry Setu. Extensive preparations are underway, with regular progress reviews conducted by the District Magistrate. Both sides are diligently gearing up for the forthcoming event. Notably, Bangladesh appears eager to inaugurate the road link before the upcoming parliamentary election.
Simultaneously, the much-anticipated partial inauguration of the Agartala-Akhaura rail connection is under consideration, with September 9 being the tentative date. Official sources remain cautious in disclosing details until formal notifications are issued by the respective governments. It's noteworthy that Chetan Kumar Srivastava, the General Manager of North East Frontier Railway, is scheduled to visit Agartala on September 22, where he will hold discussions with Chief Minister Dr. Manik Saha. A formal announcement regarding the rail link is anticipated post this meeting.
However, insiders suggest that the initial stage won't facilitate direct connectivity. The rail route will likely stretch from Akhaura to Nischintapur and subsequently from Nischintapur to Agartala. As both countries work towards enhancing bilateral connectivity, these upcoming inaugurations mark significant milestones in the ever-strengthening ties between India and Bangladesh.