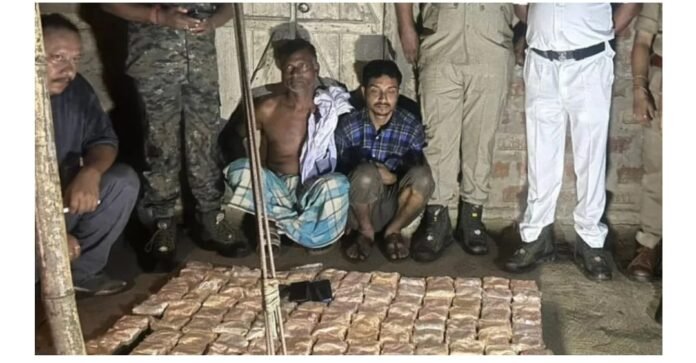 In a significant achievement for law enforcement agencies, the Cacher Police carried out a successful operation in Silchar, Assam, leading to the seizure of 2.2 kg of heroin on Saturday. The operation, which targeted a notorious drug trafficking network, unfolded with meticulous planning and resulted in the arrest of two individuals.
Acting on credible intelligence, the Cacher Police launched the operation with the aim of dismantling the drug syndicate operating in the area. The diligent efforts of the law enforcement personnel paid off as they discovered 143 soap cases concealing the illicit substance. The seizure of such a substantial quantity of heroin highlights the gravity of the drug trafficking problem prevailing in the region.
The operation showcased the dedication and commitment of the Cacher Police to combat the drug menace that poses a significant threat to society. The successful outcome of this operation is expected to disrupt the supply chain of drugs and deal a severe blow to the criminal network responsible for the distribution of narcotics in Silchar and its surrounding areas.
Speaking about the operation, [Police Spokesperson's Name] stated, "This seizure is a significant breakthrough in our ongoing efforts to curb drug trafficking in Assam. We remain committed to creating a drug-free environment for our citizens, and operations like these underscore our determination to bring the culprits to justice."
The two individuals arrested during the operation are believed to be key players in the drug network. Their apprehension provides valuable leads for further investigation, which is expected to unravel the larger network of suppliers and distributors involved in this illicit trade.
The seizure of such a substantial amount of heroin not only prevents the spread of addiction and the associated social ills but also ensures the safety and well-being of the community. The law enforcement agencies are working relentlessly to identify all those involved and take necessary actions to prevent any attempts to revive the drug network.
The Cacher Police have urged the public to come forward with any information that may assist in the ongoing investigation. They have assured the public that strict confidentiality will be maintained for those who provide valuable leads, as their cooperation is vital in curbing drug trafficking activities.
This major drug bust serves as a reminder that law enforcement agencies in Assam remain steadfast in their commitment to tackling the drug problem and making the state a safer place for its residents. The success of this operation underscores the need for continued collaboration between law enforcement, government agencies, and the community to eradicate the drug trade and safeguard society from its detrimental effects.
As the investigation progresses, authorities are hopeful that it will not only result in the arrest of all individuals involved but also provide valuable insights into the modus operandi and networks associated with drug trafficking in the region.