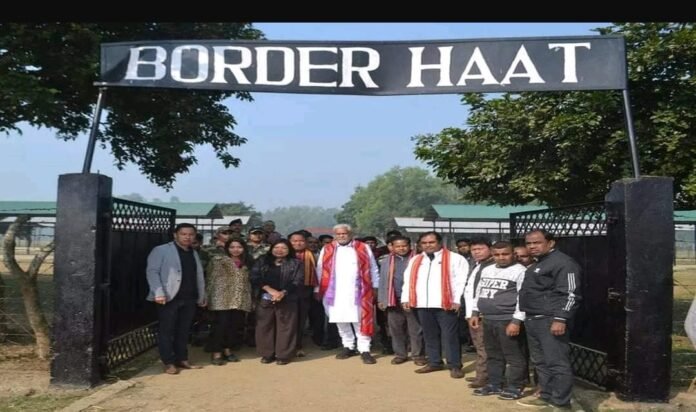 Agartala: After a gap of three years, the much-anticipated reopening of the border Haat in Srinagar, located in South Tripura district, was celebrated on Tuesday. The event witnessed the presence of officials from both the district administration and Bangladesh, underscoring the significance of cross-border trade and cultural exchange.
The Srinagar Border Haat, one of the four such marketplaces established along the India-Bangladesh border in Tripura, aims to foster bilateral relations and boost economic activities between the two nations. This long-awaited reopening has breathed new life into the local communities on both sides of the border.
With the inauguration, the residents of Srinagar and neighboring regions now have the opportunity to engage in cross-border trade, showcasing their unique products and exchanging goods with their Bangladeshi counterparts. The revival of this border Haat holds immense potential for enhancing economic cooperation and promoting cultural ties between the two countries.
The closure of the Srinagar Border Haat had posed several challenges for the local communities, including a temporary halt to the economic activities that depended on the market. However, the reopening signifies a positive step towards revitalizing the local economy and providing a platform for artisans, craftsmen, and traders to showcase their skills and products.
During the reopening ceremony, officials from both sides expressed their commitment to ensuring the smooth functioning of the Srinagar Border Haat. They emphasized the importance of maintaining security measures and adhering to trade regulations to facilitate a mutually beneficial environment for all participants.
The Border Haats in Tripura have previously played a pivotal role in promoting people-to-people interactions and strengthening cultural bonds between India and Bangladesh. They serve as bridges of friendship, allowing citizens from both countries to experience each other's rich cultural heritage and traditions.
While the reopening of the Srinagar Border Haat marks a significant milestone, it is crucial to monitor its progress and address any challenges that may arise. Regular coordination and communication between the district administrations of Tripura and their counterparts in Bangladesh will be vital in ensuring the sustained success of this border Haat.
The revival of the Srinagar Border Haat after a three-year hiatus is a testament to the efforts made by both countries to enhance bilateral trade and cultural exchange. It holds immense promise for the local communities, stimulating economic growth and fostering a deeper understanding between India and Bangladesh.