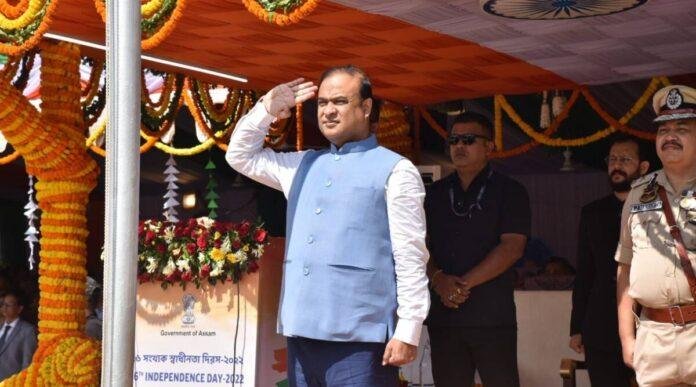 Assam Chief Minister Himanta Biswa Sarma on the 75th year of India's Freedom by taking a rather strong stand against the secessionists forces in the state said that, "there is no question of Assam parting ways with India".
The statement was made by Sarma while giving his speech in Guwahati on the occasion of the 75th year of India's Independence Day celebration.
Himanta Biswa Sarma said that "The last three days have been a lesson for all those who were demanding about sovereignty. People of Assam gave a befitting reply to those dreaming about sovereignty." "The exuberant celebrations and display of love for the Tiranga by the public during the last three days is a lesson for those who dream of an Independent Assam," said Sarma
Assam Chief Minister Himanta Biswa adding on to his statement further stated that, "Assam has always been a part of India since time immemorial. So, there is no question of discussing the non-issue of sovereignty"
Sarma firmly said, "Assam do not want to part ways with India. Assam connects itself with the tricolour."
While the Chief Minister didn't mentioned names of any groups or outfit, but it was very clear from his statements that he was referring to the Paresh Barua-led banned outfit ULFA(I) that has been active in the northeastern state of Assam for the last 43 years since 1979.
Assam on this 75th year of India's Freedom to pay a tribute to the victims and survivors of India's partition also observed the 'Vibhajan Vibhishika Diwas'. Referring to the same Himanta Biswa Sarma on his speech said that, "Today we have taken a pledge that we will not allow India to be again affected by any secessionist movement. We've taken a resolve to make non-violence a mantra of our life,"
Sarma urged the Paresh Barua-led outfit to return to the negotiations table keeping aside their demand for sovereignty.
Earlier on the 6th of this month the banned outfit along with another banned outfit from northeast the NSCN(K) of Nagaland gave a call for an 18-hour shutdown in 5 states of northeast namely Assam, Manipur, Tripura, Meghalaya, and, Nagaland on the day of India's Azaadi Ka Amrit Mahotsav celebration on 15th of August. The outfits issued a call for complete shutdown in the said states from 12 am to 6 pm on the Day of Independence.
ULFA(I)'s call for the shutdown was in contrast to what it said on last year's Independence Day. The banned organization which since its birth in 1979 had made it a custom to call for a bandh on India's Independence Day and Republic Day celebration – in line with its demand of creating a "sovereign Assam", last year however, broke away from tradition and said that it would not call for any armed protest on August 15.