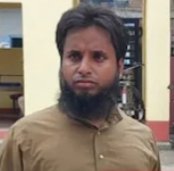 GUWAHATI: A member of ABT apprehended on Saturday near Bangladesh border in Dhubri  district of Lower Assam, chief minister Himanta Biswa Sarma said.
ABT is an Islamic Terrorist organization.
Taking to tweeter which is now known as X , Sarma wrote, " A member of the Ansarullah Bangla Team ( ABT ) module, Abdus Sukur Ali ,son of Akbar Ali from Takiamari near the Bangladesh border was apprehended early this morning from a remote area called Nayeralga under Bilasipara police station by a team led by Dhubri police. "
The Ansarullah Bangla Team (ABT) affiliated with al Qaeda allegedly involved in anti- India activities.
" interrogation with Abdus Sukur Ali is on ", Aparna Natarajan , Dhubri Superintendent of police told East Mojo.
Remarkably, in April 2023, in a search operation, Assam Police had arrested three alleged members of the Ansarullah Bangla Team (ABT) in the Dhubri district.
Aparna Natarajan ,while speaking with the reporters, said that based on specific information from earlier arrested Ansarullah team members, the trio's names emerged.
During the investigation of the Beginning stage , police got a information that the suspected detained ABT members had a financial transaction history with the earlier arrested ABT members, from Barpeta, Goalpara, Morigaon, Dhubri and more districts including other states of Bharat .
"Police have doubts that the detainee may have connections with other active ABT members who are hiding out in other states of India," Aparna Natarajan said .
The Ansarullah Bangla Team, also called Ansar Bangla is an Islamic terrorist organization in Bangladesh, implicated in crimes including some brutal attacks and murders of atheist bloggers from 2013 to 2015 .
Dhubri is 233 kilometers from capital Guwahati. Bilasipara police station is 34 kilometers from Dhubri district headquarters.
The Dhubri district has longest International Border in Assam state of India. The length of India Bangladesh international border in Dhubri district is about 134 kilometers.
Sarma recently said that Assam is a potential place for Islamic terror modules which were being neutralized from time to time and it will continue.
In April this year three persons with alleged links with ABT were arrested from Dhubri.
Last year Assam police busted nine modules of ABT and the Al Qaeda in Indian Subcontinent (AQIS) and arrested 53 persons allegedly involved with these outfits.
The arrests and the subsequent demolition of private madrasas (Islamic educational institutions) where teachers with links with these militant outfits allegedly radicalised youths were termed as serious threats to the security of the state by the Assam government.