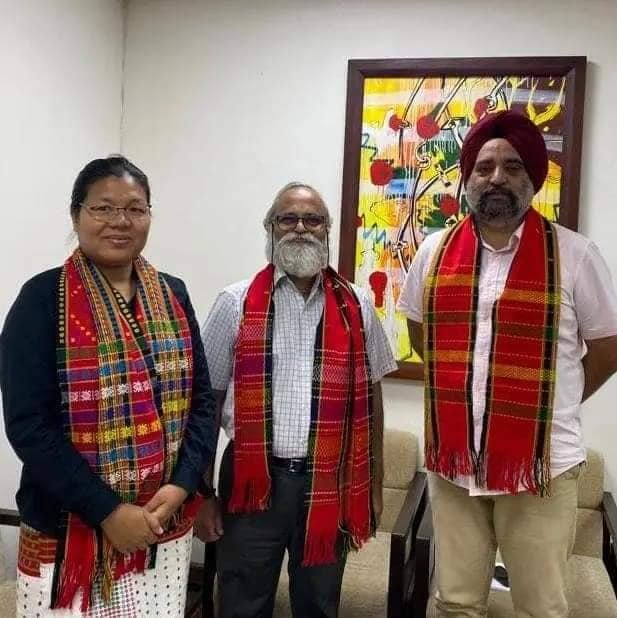 New Delhi, August 5, 2023
In a significant development, Patal Kanya Jamatia, Vice President of the Tripura Bharatiya Janata Party (BJP), held a crucial meeting with Interlocutor AK Mishra in Delhi yesterday. The meeting centered around the ongoing discussions concerning the socio-political landscape of the state.
The interaction between Jamatia and Mishra assumes great importance as it comes against the backdrop of growing concerns over certain aspects of governance and representation in Tripura. The state has witnessed various shifts in its political dynamics over recent years, prompting deliberations aimed at fostering harmony and inclusive growth.
During the meeting, discussions reportedly revolved around the promotion of cultural diversity, the strengthening of democratic institutions, and the acceleration of development initiatives in Tripura. Both leaders expressed their commitment to ensuring the well-being of all sections of society and discussed strategies to address any existing challenges in achieving this goal.
Interlocutor AK Mishra, entrusted with the task of facilitating communication between various stakeholders and promoting constructive dialogue, lauded the efforts of Patal Kanya Jamatia in advocating for the welfare of Tripura's citizens. He emphasized the importance of such engagements in formulating policies that reflect the aspirations and concerns of the state's diverse population.
As Tripura continues its journey towards progress and stability, meetings like these play a pivotal role in shaping the course of its future. The deliberations between the Tripura BJP Vice President and the Interlocutor hold promise for fostering a more inclusive and prosperous era for the state and its people.