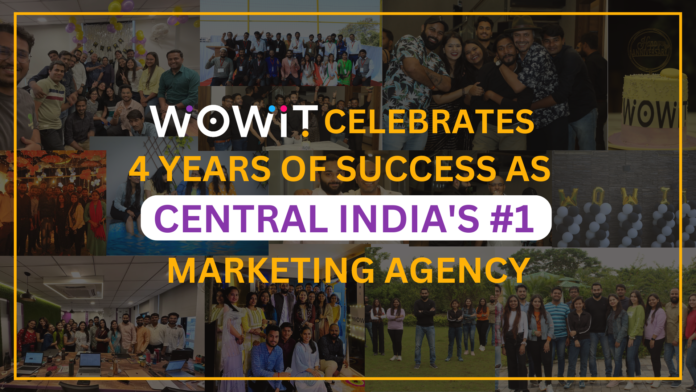 [Indore, 05 August 2023] – WOWIT Digital, Central India's #1 Marketing Agency and a leading name in the Creative | Digital | Coding Industry, proudly announces its 4th-anniversary milestone, marking four years of excellence, innovation, and success in serving esteemed clients from various sectors. Since its inception, WOWIT Digital has been at the forefront of providing cutting-edge digital solutions to clients like Cipla, Raj Industries, Pratibha Syntex, Aditya Birla Health Group, Mapro, Ntpc School of Business, Candylake, and numerous startups.
The past years have been an incredible journey for WOWIT Digital, starting from humble beginnings to becoming Central India's most trusted and renowned marketing agency. With a team of highly skilled and creative professionals, WOWIT Digital has been instrumental in transforming the digital presence of businesses across industries, revolutionizing the way they engage with their audiences.
"We are thrilled to celebrate this significant milestone in our company's history. It's been an exciting journey filled with challenges and accomplishments, and we owe our success to the trust and support of our clients and team," said Rohit Verma, Founder & CEO, the visionary leader behind WOWIT Digital.
WOWIT Digital has consistently pushed the boundaries of creativity and innovation, offering a wide range of services such as web design and development, mobile app development, digital marketing, branding, and more. The company's relentless focus on delivering quality solutions that align with clients' business goals has earned them the reputation of being a reliable and trusted partner.
Over the years, WOWIT Digital has partnered with more than 350+ renowned brands & companies, including Cipla, a leading pharmaceutical company; Raj Industries, a soap manufacturing giant; Pratibha Syntex, a textile powerhouse; Aditya Birla Health group, a prominent player in the healthcare sector; Mapro, a well-known food and beverage company; Ntpc School of Business, a premier educational institution; and Candylake, a beloved confectionery brand. Additionally, WOWIT Digital has also worked closely with many startups, helping them establish a strong digital foundation and grow their businesses.
As Central India's #1 Marketing Agency, WOWIT Digital takes pride in its local roots while offering world-class marketing solutions. The company remains committed to driving innovation, embracing new technologies, and evolving its services to meet the ever-changing needs of its clients. With a strong focus on customer satisfaction and a passion for excellence, WOWIT Digital aims to continue its growth trajectory and expand its reach to serve even more clients across the globe.
To learn more about WOWIT Digital and its services, please visit www.wowit.tech
About WOWIT Digital: https://www.instagram.com/reel/CuJsFbQIAWt/
WOWIT Digital is Central India's #1 Marketing Agency and a leading Creative | Digital | Coding Agency that specializes in providing innovative and customized digital solutions to businesses across various industries. With a talented team of experts, the company offers a wide range of services, including web design, mobile app development, digital marketing, branding, and more. WOWIT Digital has earned a stellar reputation for delivering high-quality solutions that drive results and exceed client expectations.
[email protected] | +91 97555 98940