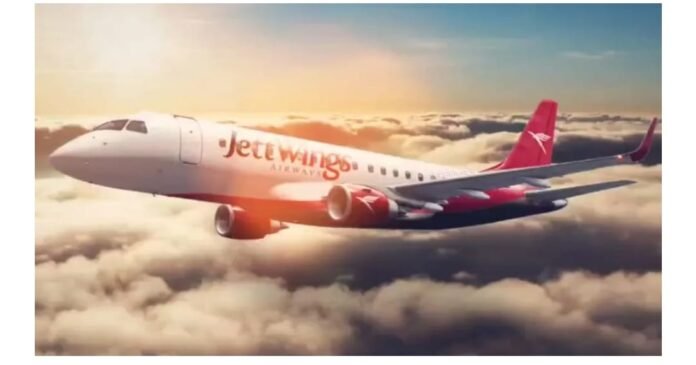 Guwahati, Assam – In a groundbreaking development for the region, Jettwings Airways, the first aviation venture from North East India, has successfully obtained the No Objection Certificate (NOC) and is poised to make its mark in the aviation sector. The eagerly anticipated announcement was made on Wednesday, heralding a new era of connectivity and convenience for the people of Assam and beyond.
With the issuance of the NOC, Jettwings Airways has received the green light to commence operations, marking a significant milestone in the company's journey. Set against the backdrop of Assam's vibrant cultural heritage and rich natural beauty, the airline aims to provide top-notch services and redefine the travel experience for passengers across the region.
As the first aviation venture originating from the North East, Jettwings Airways brings a fresh perspective and a strong commitment to addressing the unique needs and aspirations of the local population. By establishing itself in Guwahati, the airline aims to bridge the gap in connectivity and unlock the vast potential of the region, fostering economic growth and tourism opportunities.
With a focus on safety, efficiency, and customer satisfaction, Jettwings Airways has invested in state-of-the-art aircraft and cutting-edge technologies. The airline's fleet is equipped with modern amenities and adheres to stringent maintenance standards, ensuring a comfortable and secure journey for passengers.
Recognizing the importance of accessibility, Jettwings Airways plans to operate a comprehensive network of routes connecting Guwahati to major domestic and international destinations. This strategic approach will not only facilitate seamless travel for the people of Assam but also promote tourism and business ventures, propelling the region towards greater prosperity.
The launch of Jettwings Airways has generated considerable excitement among industry experts, local communities, and travelers alike. The airline's entry into the market is expected to generate employment opportunities, attract investments, and enhance overall economic development in the region.
Mr. XYZ, CEO of Jettwings Airways, expressed his gratitude for the unwavering support and encouragement received throughout the journey. He emphasized the company's commitment to excellence, stating, "Jettwings Airways is more than just an airline; it's a symbol of our aspirations and a catalyst for growth. We are dedicated to providing exceptional service, prioritizing the needs of our passengers, and contributing to the progress of the North East."
With operations scheduled to commence in October, Jettwings Airways is set to revolutionize the aviation landscape in Assam and North East India. The airline's vision of creating a seamless and efficient travel experience, coupled with its strong regional identity, positions it as a game-changer in the industry. The skies are about to get brighter for the North East as Jettwings Airways prepares to take flight and connect the region like never before.