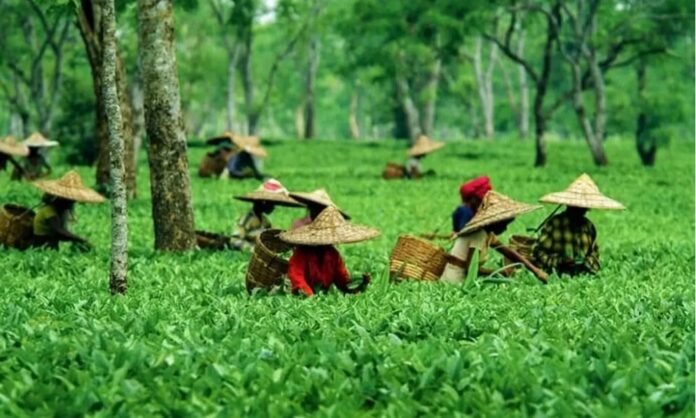 Guwahati: The  Tinsukia District Small Tea Growers Association ( TDSTGA ) On Thursday called the tea growers to boycott the oil palm cultivation in a press meet in Doomdooma in Tinsukia district of upper Assam. 
The press meet was jointly addressed by its district's president and secretary Mohammed Aamin and Ajit Gogoi at its office at Yogendra Nath Deka Path in Tea city Doomdooma.
Krishak Mukti Sangram Samiti ( KMSS ) , Satra Mukti Sangram Samiti ( SMSS) and Aam Aadmi Party ( AAP ) has also been strongly protesting Oil Palm Mega Plantation Drive that was inaugurated on August 8 at Saikhowa Ghat Dholla in Tinsukia district of upper Assam by chief minister Himanta Biswa Sarma along with agriculture minister Atul Bora and Swami Ramdev of Patanjali foods Limited in Tinsukia district of upper Assam.
" Our Association strongly condemns the oil palm cultivation. Since decades the small tea growers are being self dependent by tea cultivation without any help ( from the government) . The oil palm cultivation is unacceptable at any cost ." The president and the secretary TDSTGA told media .
The Association advised not to cultivate oil palm and said oil palm cultivation in Tinsukia would not be allowed.
" It will bring threat to the biodiversity and will have killing affects in different ways. This cultivation has been closed in Indonesia, Malaysia, Tripura and Mizoram and at this time Assam CM has allowed it with Patanjali. We don't support it ." The Association further stated .
Assam would turn as desert in future due to oil palm plantations , the Association suspected.
The Association called that by fond of any profit no small tea growers should do oil palm cultivation and will be away from it .
The Association appealed the government to help tea cultivators in place of oil palm plantations.
On the other hand various other organizations , agriculture scientists, environmentalists have also protested it citing letters to prime minister Narendra Modi that the oil palm plantations would cause threat to Forest, indigenous plants and many others.
Tinsukia is 500 kilometers from capital Guwahati and 52 kilometers from Saikhowa Ghat located at the bank of mighty Brahmaputra.
Patanjali Food Limited (PFL) will build 12 refineries across seven districts in Assam this year and four more the following year.
It should be mentioned that the central government has launched an ambitious plan to promote palm oil cultivation in 17 districts of Assam. Under this programme, Patanjali Food Limited (PFL) began cultivation in Sadiya on Tuesday
While planting saplings in Tinsukia, Assam CM Himanta Biswa Sarma supported the move. Stating that a series of steps were being planned to promote palm plantation, Sarma had explained that since farmers were eager to adopt palm oil as a new crop to supplement and enhance their income, the government has taken steps to promote the cultivation of oil palm trees.
Sarma also revealed that PFL would develop palm oil plantations.