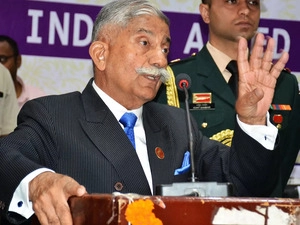 Arunachal Pradesh Governor B. D. Mishra took oath as the Governor of Meghalaya on Tuesday at a ceremony held at the Raj Bhavan. Arunachal Pradesh Governor Mishra has been given the additional charge of Meghalaya Governor. He is the Governor of Arunachal Pradesh since 2017. Former Indian Army Brigadier Mishra has replaced Satyapal Malik.
The tenure of Malik, who was the governor of Meghalaya, ended on October 3. Assembly Speaker Metbah Lyngdoh and senior ministers were present in the oath ceremony. Meghalaya Chief Minister Conrad K. Congratulating him, Sangma tweeted, "Congratulations to Mishra ji on taking over as the Governor of Meghalaya.
Also Read: Arunachal Governor B.D Mishra Gets Additional Charge of Meghalaya
The Election Commission has started preparations to conduct assembly elections in the three northeastern states of Nagaland, Tripura and Meghalaya. After assembly elections in Gujarat and Himachal Pradesh, elections to Tripura, Meghalaya and Nagaland are expected to be held in February next year.
According to an election official, the Election Commission has dispatched around 5,000 Electronic Voting Machines (EVMs) manufactured by Hyderabad-based Electronic Corporation of India Limited by trucks. We have kept these EVMs here with adequate security measures in the presence of representatives of political parties. Soon EVMs will be made available to all the sub-divisions.