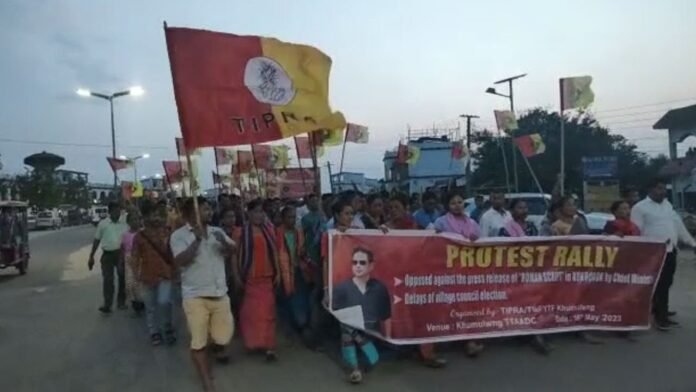 A wave of protests has swept through different parts of Tripura following a controversial statement made by Chief Minister Dr. Manik Saha. Various tribal social groups and the Tipra Motha party took to the streets in opposition after Dr. Saha reportedly stated that the Royal Scion and Tipra Motha chairman, Pradyot Kishore Manikya Debbarma, should not be referred to as 'Maharaj'.
The Chief Minister's remarks came to public attention when a local newspaper quoted Dr. Saha as saying that he had instructed his party workers not to address Pradyot Manikya as Maharaja during the BJP's state executive meeting on May 21st in the Charilam Assembly Constituency, under the Sepahijala district.
Following the viral spread of the Chief Minister's statement, various tribal social bodies and the Tipra Motha party organized protest rallies across the state, with effigies of Dr. Saha being burned as a symbolic gesture of dissent.
Late on Wednesday night, the Tipra Motha party initiated a protest rally at Khumulwng, situated in the Tripura Tribal Areas Autonomous District Council (TTAADC), led by Hangsa Kumar Tripura, a Member of the District Council of TIPRA Motha. Tripura voiced his objections, stating, "The Chief Minister has not addressed Pradyot Manikya Debbarma as Maharaj, which implies that he agrees he is not from this state. He is not a legitimate doctor and should not be addressed as such. He is unfit to be the chief minister. The ongoing infighting within the BJP, including clashes with his own MP, is evidence of his failure. We will never forgive him, and he must apologize publicly for this."
Similar protests were held yesterday in Takarjala, Jampuijala, and at the headquarters of the Tripura Tribal Areas Autonomous District Council in Khumulwng, all under tight security measures.
Meanwhile, during a press conference today, the Tipra Women Federation strongly denounced the Chief Minister's statement and demanded a public apology. Failure to do so, they warned, would result in a massive movement being launched throughout the state.
In response to the mounting controversy, the Tripura Chief Minister addressed the issue, stating, "This is an internal matter for us. Many things happen within our home that should not be taken outside. It was a closed-door meeting of our party. Some individuals are using this statement for their personal political gain. I maintain a cordial relationship with Pradyot Kishore Manikya Debbarma, and I hold his family in high regard. This respect will endure, and we have no issues."
The situation in Tripura remains tense as the protests continue and both sides stand firm in their positions. The demand for a public apology from the Chief Minister, along with the ongoing mobilization of tribal social groups and the Tipra Motha party, underscores the gravity of the situation and the deep divisions within the state.