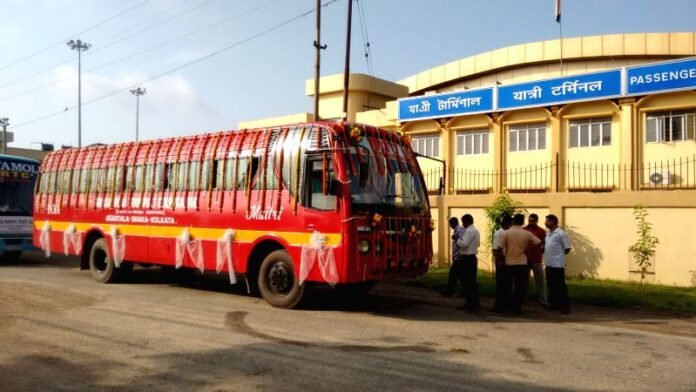 In a significant operation, the Border Security Force (BSF) intercepted a Tripura Road Transport Corporation (TRTC) bus at the Akhaura border check post and seized a substantial quantity of electronic goods and sarees that were being illegally transported. The bus, operated by a Kolkata-based transport agency named 'Royal Travel' under a public-private partnership (PPP) model contract, was found to have a hidden compartment used for smuggling purposes. The driver and co-driver of the bus, identified as MD Badal and MD Sahel, have been apprehended.
The BSF discovered approximately 500 high-end mobile phones, along with 70 valuable sarees and various other electronic items, concealed beneath the passenger bus. The impoundment of the vehicle led to significant inconvenience for the passengers, causing frustration and anger among them.
This incident is not the first of its kind involving TRTC buses engaged in smuggling activities from Agartala to Dhaka. Despite repeated occurrences, the intelligence wings of the capital police seem to remain unaware of such operations. There have been allegations of covert connections between certain officials of the police intelligence wings and the smugglers, facilitating the ongoing illegal trade.
Sources indicate that the smugglers managed to load the contraband onto the bus within the TRTC premises itself. Late on Saturday night, the bus was loaded with mobile phones, sarees, and other Indian goods intended for illegal smuggling into Bangladesh. However, the capital's intelligence wings failed to gather any information about the operation. It is worth noting that two BSF detectives closely monitored the situation throughout the night. While the BSF could have conducted a raid at the TRTC stand or within Agartala city to recover the contraband, the interception took place upon reaching the check post.
The seizure of the smuggled goods highlights the need for enhanced vigilance and cooperation among law enforcement agencies to curb such illegal activities. Authorities must ensure a thorough investigation into the involvement of transport agencies and take necessary actions to prevent the recurrence of similar incidents in the future. Strengthening intelligence networks and addressing any potential loopholes within the system are crucial steps toward combating smuggling operations effectively.
The BSF's efforts in intercepting the bus and seizing the illegal goods demonstrate their commitment to maintaining border security and combating illicit trade. Collaborative efforts between the BSF, intelligence agencies, and local law enforcement will be vital in curbing smuggling activities and protecting the interests of the nation.
As investigations into the incident continue, it is hoped that appropriate measures will be taken to prevent the misuse of public transportation for illegal purposes. Ensuring the integrity and security of passenger buses is not only essential for maintaining law and order but also for upholding the reputation of legitimate transport operators.