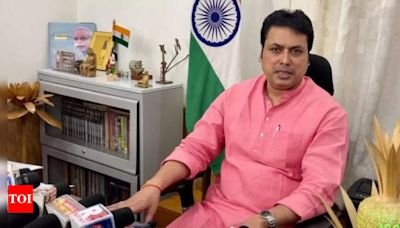 Former Chief Minister Biplab Deb's recent comments alleging unethical interference by outsiders within the state Bharatiya Janata Party (BJP) have raised eyebrows and sparked speculation. Deb's statements led to his summons by the Delhi leadership, and he subsequently left the state on a late-night flight.
Addressing the press conference, Deb expressed his concerns about unethical interference from external individuals within the state BJP. He emphasized that the party should be led by Prime Minister Narendra Modi and BJP President JP Nadda, and not influenced by outsiders. He also conveyed his grievances about infiltrating leaders with a mentality of infiltration running the party. Deb, however, refrained from disclosing the identities of these individuals.
His remarks triggered curiosity among reporters, who repeatedly questioned him about the outsiders and the reasons behind his anger. In response, Deb maintained his stance, stating that he could not reveal further details as the reporters were already aware of the situation.
The revolutionary anger expressed by Deb and his suggestive statements fueled speculation about the underlying causes of the controversy. While the exact reasons remain unknown, it is evident that all is not well within the party. The immediate summoning of Deb by the Delhi leadership following his press conference further underscored the seriousness of the situation, leading to his departure from the state.
During an event in Agartala, state BJP president Rajib Bhattacharya was asked about Deb's press conference speech. Bhattacharya acknowledged being aware of the press conference and expressed his intention to have a discussion with Deb regarding his grievances. He emphasized that both Biplab Deb and Manik Saha were leaders of the party and assured that they would work together. Bhattacharya reiterated his commitment to uniting everyone within the party.
The revelations made by Biplab Deb regarding unethical interference within the state BJP have raised concerns about internal dynamics and the unity of the party. While the exact details of the controversy are yet to be disclosed, it is evident that the leadership is taking the matter seriously. The summoning of Deb by the Delhi leadership and subsequent discussions aim to address the grievances and restore harmony within the party.
The situation warrants close attention as it unfolds, as it may have implications for the political landscape of the state. The state BJP leadership will undoubtedly work towards resolving any internal conflicts and fostering a sense of unity among party members. It remains to be seen how the issue will be resolved and what measures will be taken to ensure a cohesive and productive political environment moving forward.
As the BJP navigates through this challenging period, it will be crucial for the party leadership to engage in open and transparent dialogue, addressing concerns and grievances raised by its members. Only by fostering a culture of internal democracy, unity, and effective communication can the BJP maintain its political strength and effectively serve the people of the state.