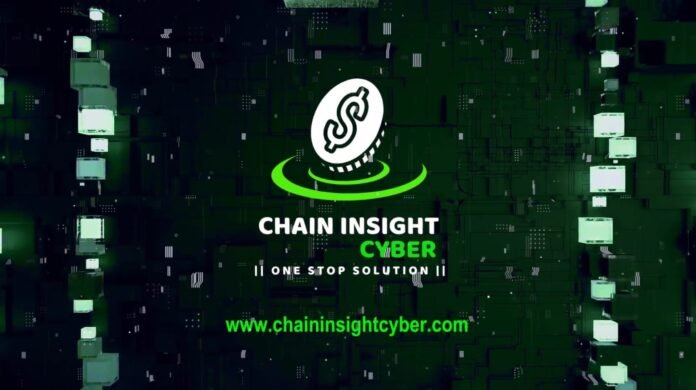 In the rapidly evolving digital world, businesses require comprehensive solutions for their online presence. Chain Insight Cyber, a Dubai-based company, has emerged as a one-stop solution, offering a unique blend of Cybersecurity, web and app development, and digital marketing services to its clients across the globe. With just 1.9 years in the market, the company has already amassed an impressive roster of 75+ clients and a dedicated team of experts from around the world.
One-Stop Solution for Businesses
Chain Insight Cyber provides a holistic approach to digital business solutions. By offering services that range from marketing and development to security and management, the company ensures that its clients' digital presence is not only secure but also optimized for growth and success.
Proactive Cybersecurity Measures
The company's Threat Hunting As A Service (THaaS) sets it apart from competitors, as it actively hunts for zero-day attacks and other potential threats. By implementing proactive security measures, Chain Insight Cyber helps clients stay ahead in the cyber fight, ensuring their digital assets are protected from cyber threats.
Satisfied Customers Around the World
Chain Insight Cyber's success is driven by its commitment to customer satisfaction. The company believes that "customers who love you will market for you more powerfully than you can possibly market yourself." This dedication to building lasting relationships has resulted in a global customer base of happy clients who continue to refer others to the company.
Innovative Marketing Strategies
Beyond traditional marketing methods, Chain Insight Cyber also offers guerrilla marketing tactics to help its clients stand out in the crowded digital marketplace. By providing innovative and unconventional strategies, the company ensures its clients receive maximum visibility and reach their target audience.
Websites That Sell and Secure
Chain Insight Cyber goes beyond merely creating websites; the company builds websites that sell and are highly secured. By combining cutting-edge web development techniques with robust security measures, clients receive a final product that both drives sales and protects their digital assets.
A Team of Attackers and Defenders
The team at Chain Insight Cyber consists of both attackers and defenders, offering a unique perspective on potential vulnerabilities and attack surfaces. This dual expertise allows them to develop and implement comprehensive security solutions tailored to each client's needs.
Discover More About Chain Insight Cyber
For more information about Chain Insight Cyber and its wide array of services, visit their website at www.chaininsightcyber.com. By exploring the site, you'll learn more about their approach to digital solutions, their dedication to customer satisfaction, and their unique expertise in the realm of cybersecurity and web development. Chain Insight Cyber's commitment to providing comprehensive and innovative digital solutions for businesses around the world is unparalleled, making them a leader in the industry.
Link: www.chaininsightcyber.com