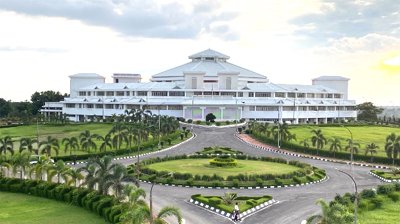 Tripura, a state in India, is grappling with a significant debt burden and interest payment liability, despite claims of a "double engine" government touted by the ruling party. The Comptroller and Auditor General (CAG) recently tabled a report in the state assembly revealing that the total debt liability of the state government from 1972 to 2018 was Rs 12,902 crores. However, in just four years, from 2018 to 2022, the debt burden surged by Rs 8,830 crores, bringing the total debt burden to a staggering Rs 21,732 crores as of March 31, 2022.
Sources within the administration have revealed that the state government incurred a massive debt burden in the 2022-2023 financial year to cover expenses such as a 17% additional Dearness Allowance (DA) to employees and pensioners, increased wages for Anganwadi, Asha, and MGNREGA workers, and a three-fold hike in the monthly pension for home guards. The exact magnitude of the total debt burden will only be known once the budget documents are presented in the assembly during the upcoming budget session in June this year.
What is even more alarming is that the interest payment liability for the loans drawn has also correspondingly increased over the years. As per the CAG report, the interest payment liability for loans drawn in the financial year 2021-2022 was Rs 1379.53 crores, equivalent to Rs 3.83 crores per day. It is expected that this burden has further escalated since then. Another concerning fact is that the debt burden now accounts for 33.55% of the state's Gross State Domestic Product (GSDP), a 4.04% increase compared to the year 2017-2018. This indicates that Tripura's debt burden is growing at an alarming rate, and the state may soon be barred from obtaining further market loans as per the norms of the Central Government and the Reserve Bank of India (RBI).
If this trend continues, the state government of Tripura could find itself in a severe financial crisis. The central compensation on Goods and Services Tax (GST) is expected to decrease in the coming years, and the state is also being deprived of invisible surpluses and funds from annual or five-year plan grants, as the Planning Commission was abolished by the Modi government in 2014, centralizing financial powers in the hands of the central government at the expense of the states.
It is crucial for the Tripura government to take immediate and effective measures to address the growing debt burden and interest payment liability. This may include implementing prudent fiscal management, exploring alternate sources of revenue generation, rationalizing expenses, and prioritizing investments in sectors that can drive economic growth and create jobs. Timely intervention is imperative to prevent the state from falling into a severe financial crisis and ensure sustainable and inclusive development for the people of Tripura.