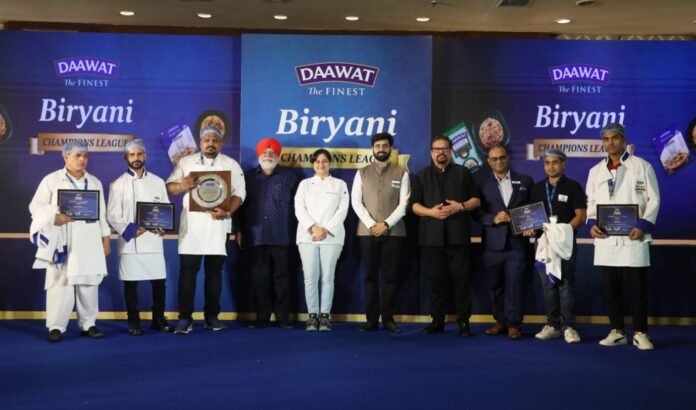 Chef Lakhan Singh from Marketplace restaurant emerged as the winner of the inaugural edition of the 'Daawat Biryani Champions League' in New Delhi. The competition, which took place at ITC Sheraton, featured five renowned professional chefs from Delhi participating in a 90-minute live biryani cooking challenge.
The esteemed participants included Chef Laxman Singh from YBiryani, Chef Mohammad Shaan from Khan Chacha, Chef Lakhan Singh from Marketplace Restaurant, Chef Moinuddin from Impresario Resto, and Raphe Azam from Biryani by CTJ. This competition aimed to celebrate the exceptional skills and creativity of these professional chefs, who brought to life the delectable biryani experiences.
The winner of the 'Daawat Biryani Champions League' was chosen by a distinguished panel of judges consisting of celebrity chef Manjit Gill, chef-restaurateur Vanshika Bhatia, and well-known food critic Vir Sanghvi.
Expressing his joy and gratitude upon winning the competition, Chef Lakhan Singh said, "I feel incredibly privileged and deeply thankful for being bestowed with the prestigious title of 'Daawat Biryani Champion' of Delhi. This remarkable competition provided me with a platform to express my profound affection and dedication towards crafting delectable Biryani. I extend my heartfelt gratitude to LT Foods Ltd., especially the brand 'Daawat', for acknowledging the hard work put in by chefs like me in this Biryani wave."
Ritesh Arora, CEO of India Business & Far East at LT Foods Ltd., congratulated Chef Lakhan Singh on his victory and highlighted the significance of his win. Arora said, "Many congratulations to Chef Lakhan Singh for winning the maiden 'Daawat Biryani Champions League' in Delhi. His victory exemplifies the exquisite flavors and artistry that Biryani represents. I must also acknowledge the hard work and talent of all the participating contestants who prepared some delectable biryanis today. Thanks to the remarkable chefs and the rich heritage of Biryani that unites us all."
In addition to the Delhi competition, a similar event was held in Kolkata on June 19, where Chef Sarfaraz Hossain from Al – Faiz Family Restaurant & Caterers was declared the winner.
The 'Daawat Biryani Champions League' not only showcased the culinary expertise of these talented chefs but also highlighted the cultural significance and popularity of biryani across different regions of India. The competition provided a platform for these culinary artists to showcase their skills and passion for creating exceptional biryani dishes.