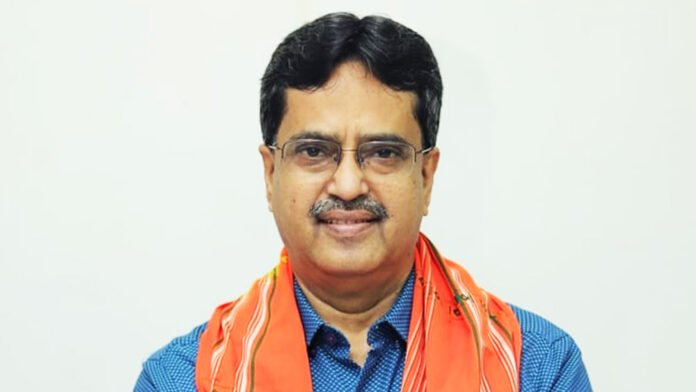 Tripura Chief Minister Manik shows his gratitude to PM Modi ji for sending money for Jal Jeevan Mission. Prime minister Modi sent such a huge amount of rs 166.74 crore for the JJM (Jal Jeevan mission). This mission in Tripura states for providing safe drinking water in every household. The government is aiming to introduce the Jal Jeevan Mission completely by the end of this year.
CM twitted "My gratitude to PM Narendra Modiji and Jal Shakti Mr. Gagendra Singh Shekhawatji for releasing Rs 166.74 crores to Tripura under JJM. This will help expedite the efforts towards the goal of ensuring piped water supply to every rural household."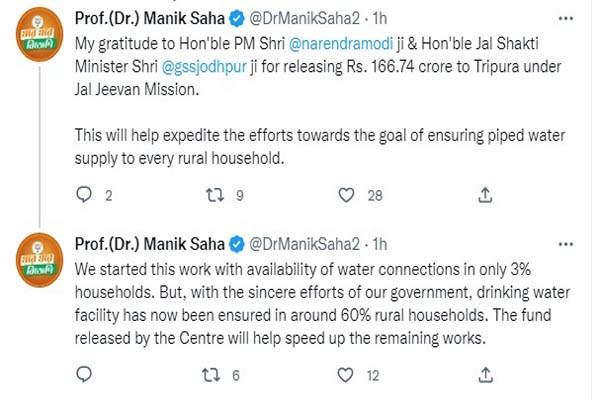 JJM work is already running and will soon show results. This has already increased the water connections from 3 percent to 60 percent. It resulted in the improvement of people's health, safety, and sanitation. The state government is working tirelessly to give the best results through JJM. JJM will supply about 7.5 lakhs rural homes with safe drinking water by the end of this year. Tripura government shows its immense concern towards the people and is aiming to do better for the state.
See tweet here : https://www.google.com/url?sa=t&rct=j&q=&esrc=s&source=web&cd=&cad=rja&uact=8&ved=2ahUKEwjihKq05fn7AhXF3WEKHeR8C0YQFnoECAkQAQ&url=https%3A%2F%2Fwww.tripuratimes.com%2Fttimes%2Fjal-jeevan-mission-centre-releases-rs-166-74-cr-to-tripura-4751.html&usg=AOvVaw18yIkNoYt697kMwmH3pD1t