Manik Saha on Monday filed his nomination papers for the upcoming state elections from Town Bordovali (West Tripura) constituency. He was accompanied by Himanta Biswa Sarma and N. Biren Singh. With drums and music, all three had reached the collector's office together. The BJP is contesting 55 seats in the 60-member Tripura Assembly and has given five seats to ally IPFT.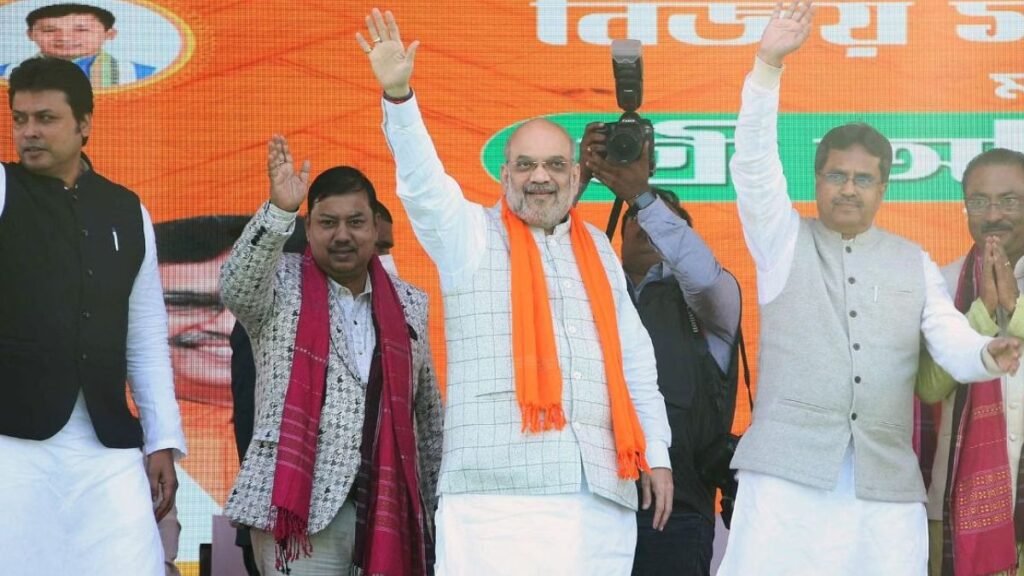 On this occasion, Himanta Biswa Sarma lashed out at the opposition Congress and the Communist Party of India (M). Leaders of the Bharatiya Janata Party (BJP) reached Agartala, the capital of Tripura, on Sunday. Himanta Biswa Sarma said that BJP only believes in development card, we do not have donation card or violence card. He said that Congress is a big zero in the country and CPI(M) is zero in the world. And zero plus zero equals zero.
First worshiped at the Durga temple, then reached the collectorate.
Earlier, before nomination, Saha had offered prayers at the nearby Durga temple. Monday was the last day for filing nomination papers for the Tripura Assembly elections to be held on February 16. Saha was accompanied by BJP state party president Rajeev Bhattacharya who filed his nomination for the Banamalipur assembly constituency.
Tripura has progressed in the last five years and a lot needs to be done
Manik Saha told that on Monday morning Narendra Modi, Amit Shah and Bharatiya Janata Party JP Nadda called and blessed. The CMs of Assam and Manipur are with me, what more can I wish for. This time we will win more seats. N Biren Singh said Tripura has progressed in the last five years and a lot more needs to be done. Peace has been restored in the Northeast. Growth has been the basis of our success. Here, Himanta Sarma said that "2018 was the year of fear and 2023 is about peace. This year the results will be good and we will emerge as the single largest party. We have decided to fight this alone. This year we will win six to seven seats more than in the previous elections.