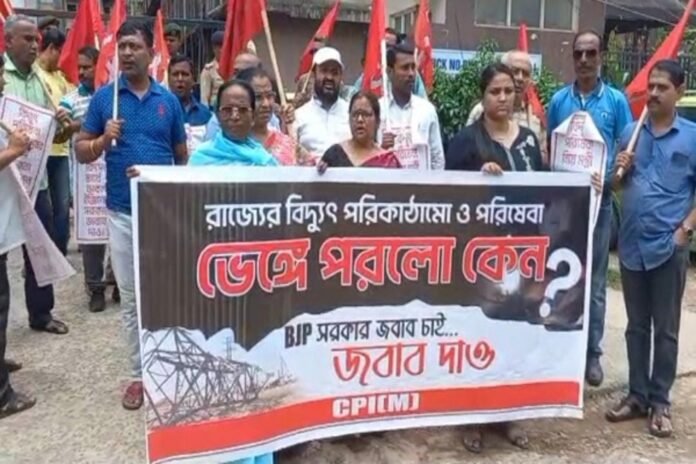 Amidst the sweltering heat of summer, the Communist Party of India-Marxist (CPI-M) state committee organized a large-scale demonstration on Monday to protest the persistently disrupted power supply service across Tripura. The prolonged power outages have only added to the woes of the common people, who are already grappling with the scorching temperatures.
A significant number of Left party workers gathered in front of the Bhuturia Power Department office, demanding an immediate restoration of power services in the state. Addressing the protesters, senior CPI-M leaders emphasized that the demonstration was not driven by political interests or aimed at any specific individual; instead, it was a fight for the rights and welfare of the citizens who have been severely affected by the crumbling power service in the region.
The leaders expressed concern over the frequent power cuts and long hours of load shedding during the hot summer days, which have exacerbated the suffering of the common people. The disruption of power supply has not only inconvenienced households but has also impacted businesses and essential services.
The CPI-M leaders raised serious questions about the responses from the responsible BJP minister when asked about the power disruptions. The minister, they noted, seemed to downplay the situation by categorizing it as "power cuts" rather than addressing the pressing issue of uninterrupted and consistent power supply that the people desire.
Furthermore, the CPI-M leaders criticized the power department, the minister, and authorities for their inadequate handling of the tragic 'Ulta Rath Yatra' incident in Kumarghat, which resulted in the loss of 10 lives so far. They demanded a proper justification and accountability for this unfortunate event.
Drawing attention to other incidents of transformer collapse in Manu and persistent power issues in both urban and remote areas, the CPI-M leaders accused the state power minister of being indifferent and unresponsive to the grievances of the people. They questioned the government's priorities, pointing out that instead of fixing the dilapidated power service, there are speculations that the BJP-led government is covertly planning to increase electricity charges.
Condemning the BJP-led government's failure to provide basic services to the common people, the CPI-M demanded an immediate restoration of the power supply system. They stressed the importance of prioritizing the welfare and well-being of the citizens over any other considerations.
As the demonstration echoed the concerns and frustrations of the people, it served as a reminder to the authorities to address the power supply issues promptly and effectively. The CPI-M's call for action reflects the urgency of resolving the power crisis to alleviate the hardships faced by the populace, especially during the unforgiving summer season.