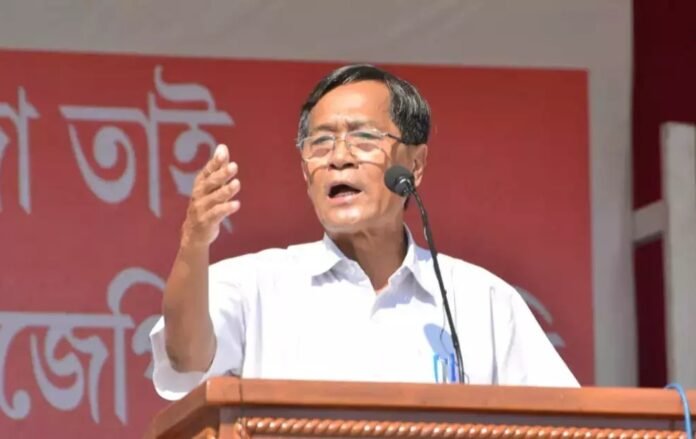 The State Secretary of the Communist Party of India (Marxist), Jitendra Choudhury, along with Central Committee member, has strongly criticized the "Tipra Motha Party" for its recent call for a 12-hour 'bandh' in the Autonomous District Council (ADC) areas. Choudhury asserted that this move is seen as aligning with the BJP's interests.
Addressing a gathering in Paradise Chaumuhuni area of Agartala, Choudhury pointed out the negligence of the BJP-led central government in implementing crucial constitutional amendments, particularly the inclusion of the tribal 'Kokborok' language in the 8th schedule. He expressed disappointment at the lack of concerted efforts to address the legitimate demands of the tribal population.
Choudhury argued that the calls for 'Tipraland' and 'Greater Tipraland' by IPFT in 2018 and Motha in 2023 respectively, are perceived as maneuvers to bolster the BJP's political dominance, potentially at the expense of tribal interests. He criticized these tribal leaders for what he viewed as misleading their own community with impractical demands, emphasizing that dividing a relatively small state like Tripura may not be a sustainable solution.
Drawing attention to the deteriorating condition of tribals in Tripura and ADC areas under the BJP and Tipra Motha Party, Choudhury expressed deep concern over the decline in critical sectors such as agriculture, 'Jhum' cultivation, healthcare, education, and access to clean drinking water. He also raised alarm over the absence of Village Committee elections under the ADC, which has led to instances of extreme poverty and even child trafficking for survival.
Choudhury further questioned the sincerity behind the 'bandh' call, suggesting it may have been orchestrated by the BJP. He challenged the Prime Minister and Home Minister to directly address the dire conditions faced by tribals, rather than resorting to such dramatic measures. Choudhury expressed confidence that tribal communities, feeling disillusioned, will soon discern the true motivations behind these political maneuvers and take a stand for their rights.