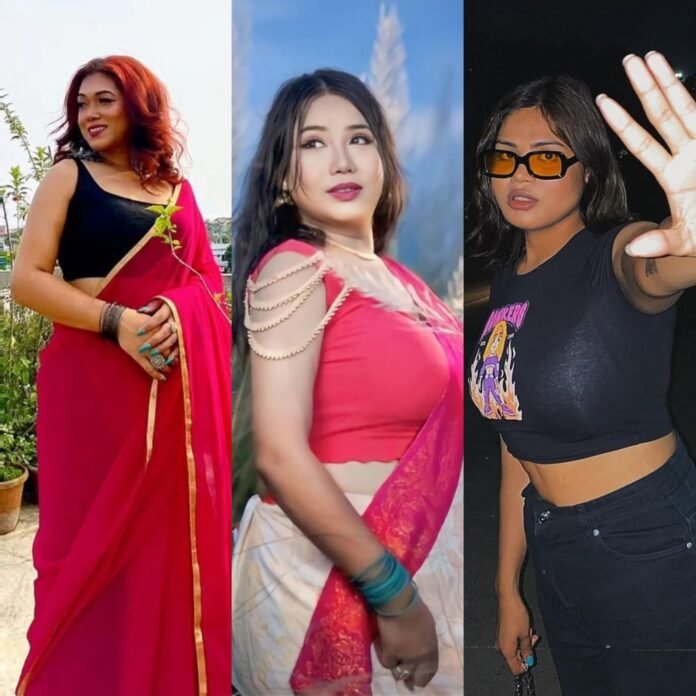 In the picturesque state of Tripura, a trio of makeup artists has risen to prominence, gaining traction in the entertainment industry and wedding circuits alike. Tamanna Debbarma, Nairwk Debbarma, and Tazashia Reang have established themselves as the go-to experts for flawless transformations and stunning beauty looks.
Tamanna Debbarma: With a career spanning over a decade, Tamanna Debbarma has become a household name in the makeup industry. She began her career at Khathansa Production and later collaborated with the renowned Indian Idol winner Sourabhee Debbarma. Her artistic flair and attention to detail have earned her a coveted spot among the top makeup artists in Tripura. Having worked with renowned production houses and a roster of esteemed actors and actresses, Tamanna brings a wealth of experience to every project.
Nairwk Debbarma: Nairwk Debbarma's journey in the world of makeup artistry is a testament to her passion and dedication. Her versatile skill set allows her to create a wide range of looks, from subtle and natural to bold and glamorous. Nairwk's ability to understand and enhance individual features has made her a sought-after makeup artist for various music videos, films, and productions. Nairwk is now the proud owner of Nairwk Production, a production house that bears her name. It enjoys a large following and is known for producing high-quality music videos.
Tazashia Reang: Tazashia Reang is a rising star in the makeup industry of Tripura. Known for her innovative techniques and trendsetting styles, Tazashia has garnered a loyal clientele. Her proficiency in creating picture-perfect bridal looks has earned her accolades, making her a popular choice for weddings and special events.
These three artists not only excel in their craft but also share their knowledge through makeup courses. Their dedication to empowering aspiring makeup artists with the right skills and techniques is commendable.
In addition to their work in the entertainment industry, Tamanna, Nairwk, and Tazashia are renowned for their expertise in bridal makeup. Their ability to understand a bride's vision and translate it into stunning reality has made them favorites among brides-to-be.
In the quaint state of Tripura, these three makeup artists stand as beacons of excellence. However, it's important to note that they are just a glimpse into the thriving makeup industry of this small state. There are numerous other talented artists whose work deserves recognition, and we'll be sure to shine a spotlight on them in the near future. Each artist brings a unique perspective and skill set, contributing to the rich tapestry of makeup artistry in Tripura. Stay tuned to discover more hidden gems in this dynamic industry!