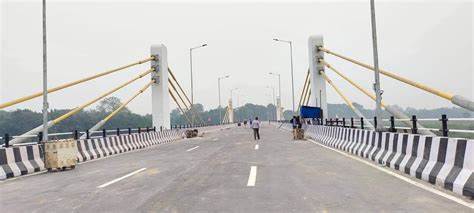 Two years have passed since the inauguration. But, goods crossing or passenger traffic has not yet started with the Maitri Bridge constructed at Sabroom. So, today again the delegation of India and Bangladesh came to visit Maitri Setu. Aditya Mishra, chairman of Land Port of India, claims that it will be possible to start passenger traffic through Maitri Setu within a couple of months.
Bangladesh High Commissioner appointed to India Mustafizur Rahman, Agartala Bangladesh Assistant High Commissioner Arif Mohammad, Land Port of India Chairman Aditya Mishra, Technical Director Colonel Gitte, Land Port of Tripura Manager Debashish Nandi, former MLA Shankar Roy and other officials of various departments were present in the delegation. .
In this regard, Aditya Mishra said that the visit of the joint delegation of the two countries is to check all the infrastructure in order to start passenger traffic through Maitri Bridge within the next two months. Inquiries are made about the various facilities at the Temporary Immigration Centre.