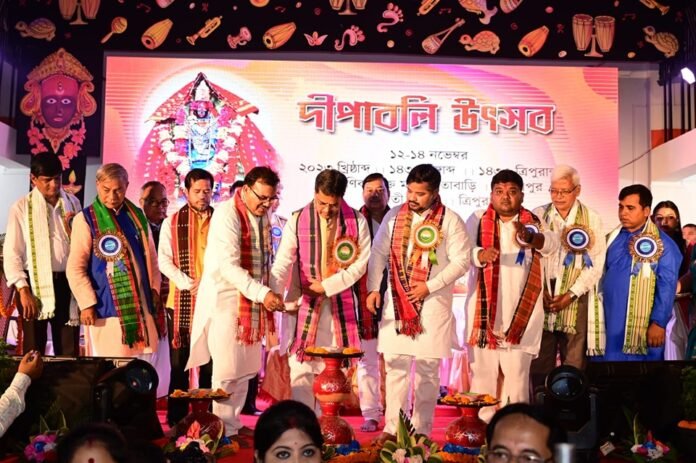 In a vibrant celebration of Diwali, Prof. (Dr.) Manik Saha, the Hon'ble Chief Minister of Tripura, inaugurated the Diwali Utsav at Mata Tripurasundari Mandir Udaipur. The event, graced by various dignitaries, marked a joyous commencement of the festival of lights in the region.
Key Points:
Hon'ble CM's Presence: Prof. (Dr.) Manik Saha, a respected figure in Tripura, took center stage as he inaugurated the Diwali Utsav at Mata Tripurasundari Mandir. His participation added a significant touch of leadership to the festivities.
Diwali Utsav Kick-off: The event served as the official commencement of Diwali celebrations in the region, fostering a sense of community and shared joy among the attendees.
Mata Tripurasundari Mandir Setting: The choice of Mata Tripurasundari Mandir Udaipur as the venue added a spiritual and cultural significance to the celebration. The mandir's ambiance likely contributed to the festive fervor.
Presence of Dignitaries: In addition to the Hon'ble CM, the celebration witnessed the presence of other dignitaries, further highlighting the cultural and communal importance of the Diwali Utsav.
Symbolism of Diwali: Diwali, known as the festival of lights, holds profound cultural and spiritual symbolism. It signifies the triumph of light over darkness, and the inauguration by the Hon'ble CM adds a special significance to the event.
Community Engagement: The celebration, with its array of dignitaries, showcases the engagement of the community in coming together to celebrate a festival that transcends cultural and religious boundaries.
As the Diwali Utsav kicks off under the esteemed leadership of Prof. (Dr.) Manik Saha, the radiance of the festival is expected to resonate across Tripura. The event not only marks a moment of celebration but also reflects the cultural diversity and communal spirit that defines the region.