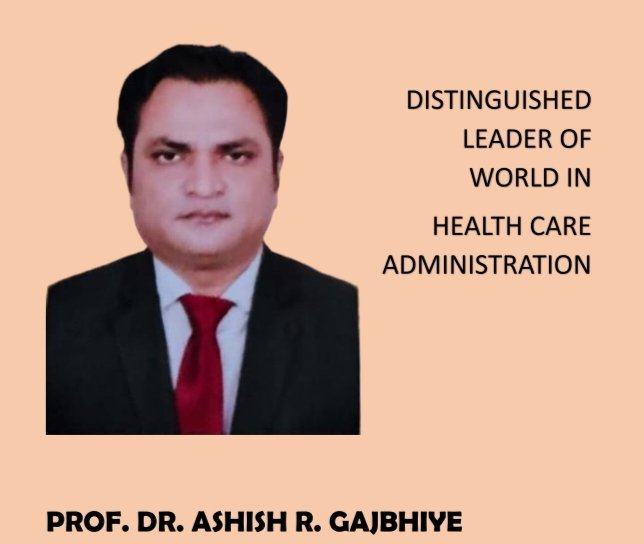 In the realm of health and education, one name stands out as a beacon of excellence and leadership – Prof. Dr. Ashish Gajbhiye. Renowned globally for his exceptional contributions, Dr. Gajbhiye is a distinguished Hospital Health Administrator, Public Health Expert, Health Trainer, and Academician. His extensive academic background and impressive array of international positions and awards attest to his unparalleled commitment to the betterment of healthcare and education.
Academic Prowess
Dr. Gajbhiye's academic journey began with a Bachelor's in Medical Sciences from Rani Durgavati University, followed by a Bachelor of Sciences from Vinayaka Missions Research University, Tamil Nadu. His thirst for knowledge led him to acquire three Master's degrees, specializing in International Public Health, Hospital Health Management, and Social Work. These diverse fields of study equip him with a holistic understanding of the complex interplay between healthcare, management, and social well-being.
International Accolades
Dr. Gajbhiye's pursuit of excellence extends beyond the borders of India. He holds an international fellowship in Certified Clinical Diabetology from St. Thomas-A-Becket University Institute in Africa. Additionally, he has been honored with the esteemed title of Certified Trainer for Postgraduate Health Care Trainees by Mohammad Bin Rashid University of Medicine and Health Sciences in Dubai, UAE.
A Scholar and Educator
Dr. Gajbhiye's influence in the field of education spans continents. He holds distinguished professorial positions in esteemed institutions such as the School of Health Sciences at Brainae University, USA, Wisdom University focusing on Leadership and International Relations, and Light House Leadership University, Lokoja, where he serves as an Honorary Professor of Hospital and Health Management. His expertise has also been recognized in Uganda, Croatia, and Indonesia, where he imparts invaluable knowledge in the areas of Allied Health Sciences, Nursing, Peace Studies, and Hospital Management.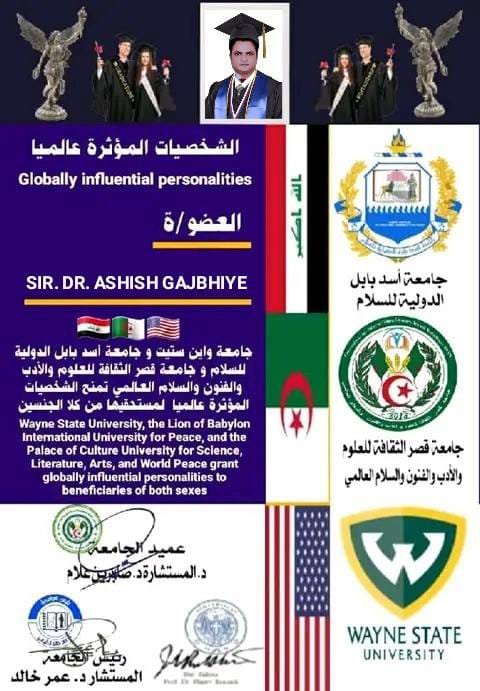 International Fellowships and Positions
The extensive list of international fellowships and positions held by Dr. Gajbhiye underscores his global impact. These include Professional Fellowships in Hospital Management, Humanities, and Postdoctoral Fellowships in Hospital and Health Management across several African and Asian nations. Furthermore, his roles as a Global Advisor to the United Nations Human Rights Organization and a Certified Health Advisor to the Sickle Cell Intervention International in London, UK, highlight his deep commitment to advancing global health and well-being.
A Multitude of Accolades
Dr. Gajbhiye's remarkable contributions have not gone unnoticed. He has been honored with numerous awards, including the Certificate of Excellence from Harvard Medical School, the Global Influencer during the Pandemic Award from the Institute of Global Professionals in Bangladesh, and the Living Legend Award from Hope International Book of Records in India. These accolades not only recognize his dedication but also serve as a testament to his enduring impact on the world stage.
Champion of Social Services
Beyond his academic and professional achievements, Dr. Gajbhiye is equally lauded for his exceptional social contributions. He has been recognized with prestigious awards such as the Dr. Babasaheb Ambedkar International Award, the Nelson Mandela International Peace Award, and the Mahatma Gandhi International Peace Award, among others. These honors reflect his unwavering commitment to the principles of equality, peace, and social justice.
Prof. Dr. Ashish Gajbhiye's indomitable spirit and unwavering dedication to health, education, and social well-being make him a truly distinguished leader in his field. His impact resonates not only in India but across the globe, leaving an indelible mark on the landscape of healthcare and education. Dr. Gajbhiye's legacy is one of inspiration and serves as a guiding light for current and future generations striving to make a positive difference in the world.