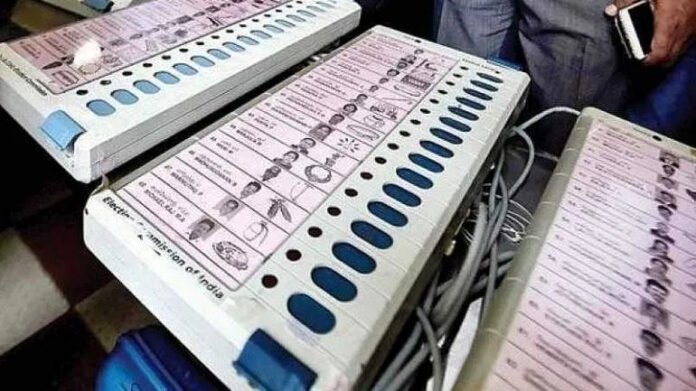 Jampuijala, Tripura – The ongoing state assembly elections in Tripura have been marred by allegations of irregularities and malpractices in several places, with the latest controversy centering on the movement of electronic voting machines (EVMs) from a wrong subdivision to the designated strong room.
According to local reports, a group of polling officers and police personnel were transporting EVMs from Bishalgarh subdivision to Jampuijala sub-divisional magistrate (SDM) office, where the voting machines were supposed to be stored securely until the counting day. However, it was found that the EVMs actually belonged to Jampuijala and were mistakenly sent to Bishalgarh earlier.
The incident came to light when some vigilant locals noticed the discrepancy and informed the authorities, who then rushed to the spot and redirected the EVMs to the correct location. However, the delay and confusion caused by the mistake raised concerns about the transparency and fairness of the election process.
Several political parties and citizens' groups have accused the ruling party of manipulating the EVMs and trying to influence the results in their favor. They also alleged that the mix-up was not accidental but a deliberate ploy to tamper with the votes. The Election Commission of India (ECI) has yet to respond to the allegations, but some officials have assured that the EVMs were not compromised and the election will be conducted fairly.
Meanwhile, there have been other reports of irregularities and negligence in different parts of Tripura, including Charilam, Kamalpur, Majlishpur, and Dharmanagar. In some places, voters complained of missing names in the electoral rolls or malfunctioning EVMs, while in others, the security arrangements were deemed inadequate or biased towards a particular party.
The overall situation has raised tensions among the competing candidates and their supporters, as well as the general public, who are hoping for a free and fair election. The fate of Tripura's political future hangs in the balance, as the state has been a stronghold of the ruling party for decades, but the opposition has made significant gains in recent years.