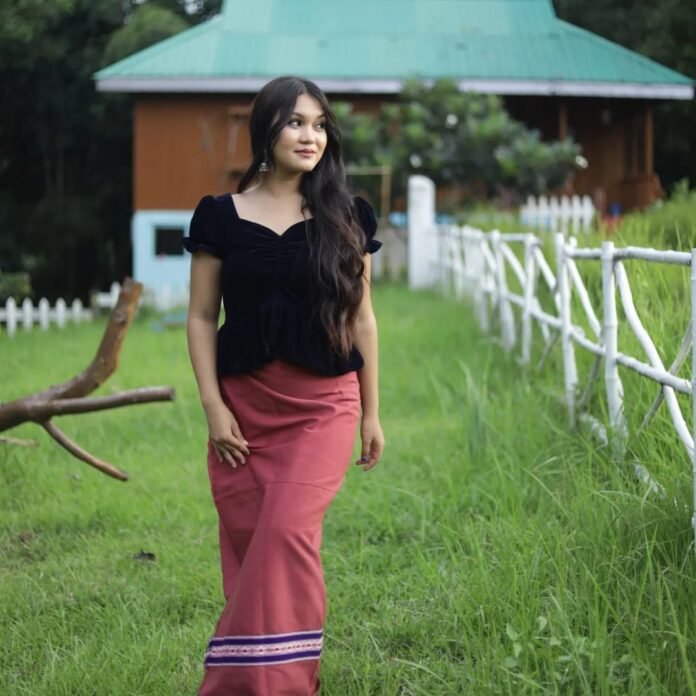 Selina Reang, a promising artist hailing from Karbook in Gomati District, is gaining recognition for her captivating performances in Kaubru music videos. Selina, currently in her third semester of pursuing a BA in Sociology Honors at Women's College, Agartala, began her journey into the world of artistry at a young age.
In an exclusive interview with Borok Times, Selina shared her passion for dance, which blossomed in her childhood and has only grown stronger over the years. "Dance has always held a special place in my heart. As I grew older, my interest in it deepened, eventually leading me to the world of music videos after being approached by a production house," she revealed.
Initially, she was first approached for the 'Rangkhao Poicha' video by Koreya Debbarma and Dipen Reang, which marked a significant milestone in her artistic journey. When asked about her favorite projects, Selina enthusiastically mentioned "Barandi" and "Aini Rangjauhma" as standout pieces.
Recently, Selina had the pleasure of working on a soft romantic video, a dream project of hers, directed by Sharmili Debbarma from Khathansa Production. She expressed her gratitude, saying, "I'm immensely thankful to Sharmili and the production house owner for entrusting me with this opportunity. I cherished every moment working on this video, and I'm eager to take on more projects of a similar nature."
Selina took a moment to extend her gratitude to her supportive audience, emphasizing their crucial role in her musical journey. "I owe so much to my wonderful audience, who have stood by me throughout this incredible journey," she said with a smile.
Selina Reang's talent keeps drawing people in, and her strong commitment to her art assures us that she'll make even more amazing things in the future. Every time she works on a project, she leaves a lasting impression on the world of Kaubru music videos. This is making her reputation grow as a bright new star in the industry.