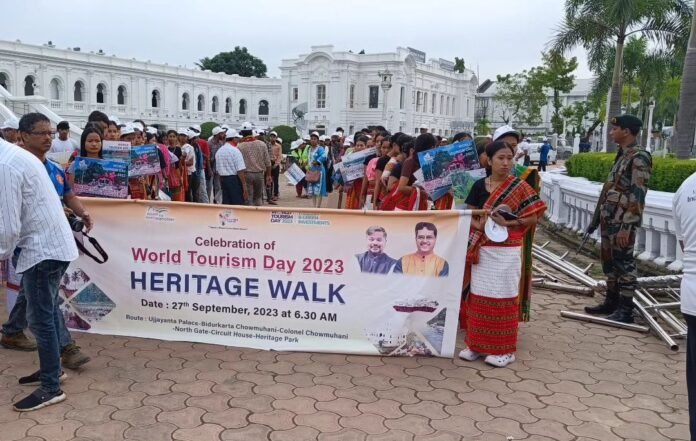 Tripura Tourism, in collaboration with various local organizations including Agartala Cycloholics, NAMF, Agartala Adventure Club, TTDF, and Trek to Wild, orchestrated a memorable Heritage Walk. This event aimed to showcase the rich cultural tapestry and natural beauty of Tripura.
The Heritage Walk commenced at the illustrious Ujjayanta Palace, a symbol of the state's architectural grandeur and historical significance. Enthusiastic participants, including tourists and locals, embarked on a journey through time, guided by expert historians and heritage enthusiasts.
The route led to the breathtaking Heritage Park, where the participants were greeted by lush greenery and the soothing sounds of nature. The park, a testament to Tripura's commitment to preserving its natural heritage, served as the perfect backdrop for a day of cultural exchange and exploration.
Mr. Rakesh Das, the spokesperson for Tripura Tourism, expressed his elation at the success of the event. He emphasized the importance of World Tourism Day in promoting global awareness of the cultural, social, and economic value of tourism. "Tripura has an abundance of untapped potential in terms of tourism, and events like these are crucial in showcasing our state's unique offerings to the world," he remarked.
Participants were treated to an array of activities, including guided tours, cultural performances, and interactive sessions with local artisans. The event provided a platform for visitors to immerse themselves in the diverse cultural heritage of Tripura, forging connections and creating lasting memories.
As the sun set over the Heritage Park, attendees left with a newfound appreciation for Tripura's rich history and natural splendor. The Heritage Walk not only celebrated World Tourism Day but also marked a significant step forward in establishing Tripura as a prominent tourist destination on the global stage.