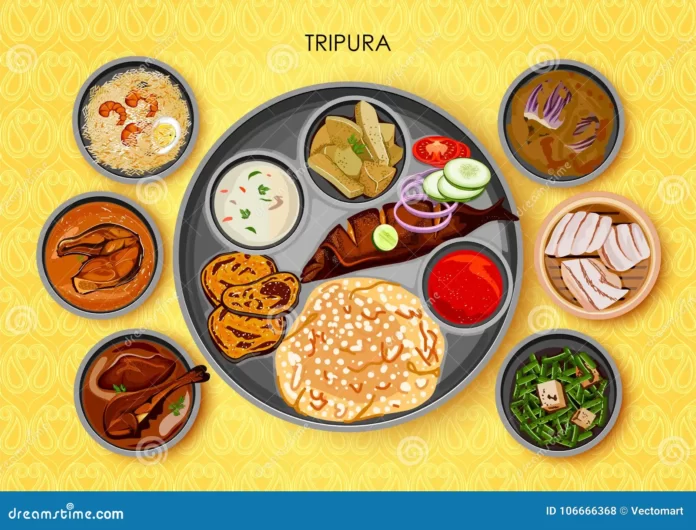 Tripura, a land of diverse cultures and traditions, is home to the Halam tribe, an indigenous community that has contributed immensely to the region's cultural heritage. Among their rich tapestry of traditions, Halam tribal cuisine stands out as a culinary delight, offering a tantalizing array of flavors and unique culinary practices. In this article, we embark on a gastronomic journey, immersing ourselves in the vibrant Halam tribal cuisine and discovering the essence of their culinary heritage.
The Halam Tribe: A Glimpse into their Cultural Identity:
The Halam tribe, also known as the Haroi or Koloi tribe, has inhabited the hills and valleys of Tripura for generations. They have nurtured their distinctive cultural identity, and their cuisine serves as a window into their way of life, reflecting their deep connection with nature and their rich agricultural practices.
Staple Ingredients and Culinary Traditions:
At the heart of Halam tribal cuisine lies a harmonious blend of locally sourced ingredients and traditional cooking methods. Rice, fish, pork, bamboo shoots, herbs, and spices form the core elements of their culinary repertoire. The Halam people skillfully incorporate these ingredients to create mouthwatering dishes that reflect their culinary expertise.
Unique Flavors and Culinary Techniques:
Halam cuisine is renowned for its robust and aromatic flavors. The use of indigenous herbs and spices adds depth and complexity to their dishes. From tangy and spicy preparations to delicately flavored curries, each recipe is a testament to their culinary artistry. Traditional cooking techniques like bamboo cooking, smoking, and fermentation enhance the flavors and textures of their cuisine.
Signature Dishes and Delicacies:
Exploring Halam tribal cuisine is an opportunity to savor a range of delectable dishes. "Chakhwi" is a popular dish made with fermented fish, herbs, and spices, providing a burst of tangy and umami flavors. "Bangui" is a traditional pork curry cooked with bamboo shoots, while "Panch Phoron" is a unique blend of five spices used to season various dishes.
Cultural Significance and Festive Delights:
Halam tribal cuisine is deeply intertwined with their cultural celebrations and festivals. During festivals like "Hai Mong" and "Katha Hili," the community comes together to prepare elaborate feasts featuring traditional dishes. These culinary delights not only satisfy the taste buds but also symbolize unity, togetherness, and gratitude.
Culinary Preservation and Revival:
As modernization and globalization influence lifestyles, there is a growing need to preserve and promote Halam tribal cuisine. Efforts are underway by local communities, culinary enthusiasts, and organizations to document traditional recipes, provide culinary training, and create platforms for showcasing Halam cuisine's rich heritage.
Experiencing Halam Cuisine: Food Trails and Cultural Exchanges:
Travelers and food enthusiasts can embark on food trails and cultural exchanges to experience the authentic flavors of Halam tribal cuisine. Visiting local markets, participating in community feasts, and engaging with Halam families allow for a deeper understanding of their culinary traditions and foster cultural appreciation.
Halam tribal cuisine offers a fascinating exploration of flavors, culinary techniques, and cultural heritage. By indulging in their diverse array of dishes, one can truly appreciate the Halam community's deep connection with their land, nature, and traditional practices. As we celebrate culinary diversity, let us embrace and support the preservation of Halam tribal cuisine, ensuring its continued presence and enjoyment for generations to come.