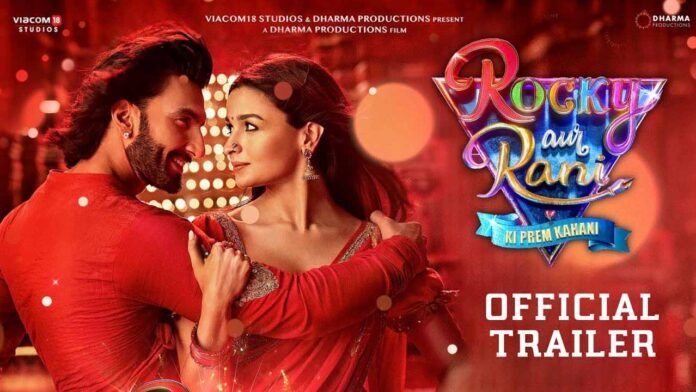 The much-awaited trailer of 'Rocky Aur Rani Kii Prem Kahaani' has taken the entertainment world by storm, captivating audiences with its promise of an enchanting tale of love, drama, and unique comedy. Directed by the acclaimed filmmaker Karan Johar, this romantic drama boasts an impressive ensemble cast, featuring the dynamic duo of Ranveer Singh and Alia Bhatt, who reunite on-screen after their remarkable collaboration in 'Gully Boy'. Accompanying them are veteran actors Jaya Bachchan, Dharmendra, and Shabana Azmi, further elevating the star-studded lineup.
A Sneak Peek into the Trailer's Narrative: The trailer opens with a gripping argument between Alia Bhatt and Ranveer Singh, setting the stage for an intriguing story that unfolds with unexpected twists. However, it quickly transitions into a light-hearted comedic atmosphere, showcasing the contrasting dynamics between a lively Punjabi family and a more introspective Bengali family. Ranveer effortlessly embodies the essence of a quintessential Punjabi boy, while Alia brings a nuanced portrayal of a Bengali woman, adding depth to their characters' interactions.
The Comedy and Wit that Enthralls: The trailer delights viewers with a series of witty and humorous dialogues, generating a frenzy of excitement across the internet. One particular exchange between Ranveer and Alia, where she playfully quizzes him about the location of Bengal, has garnered attention. His humorous response, "West, obvio," followed by Alia's correction about the region being in the east, has sparked laughter and added to the charm of their on-screen chemistry. Social media platforms have been abuzz with fans sharing their amusement and anticipation for the film.
Visual Grandeur and Musical Extravaganza: Apart from showcasing the lead pair's undeniable chemistry, the trailer offers glimpses of the film's vibrant visuals and lively musical sequences. Karan Johar's signature directorial flair shines through, promising a cinematic experience filled with love, laughter, and captivating storytelling. The colorful aesthetics and captivating music create an immersive world that audiences eagerly anticipate experiencing on the big screen.
Anticipation and Release Date: As discussions and anticipation surrounding 'Rocky Aur Rani Kii Prem Kahaani' continue to grow, fans eagerly await the film's release on July 28, 2023. The trailer has successfully piqued curiosity, generating immense excitement for the full-fledged romantic journey that awaits them in the theaters.
The trailer of 'Rocky Aur Rani Kii Prem Kahaani' has captivated audiences with its compelling narrative, stellar performances, and witty dialogues. With the perfect blend of love, drama, and comedy, the film promises to be an engaging cinematic experience. As fans eagerly count down the days until its release, the anticipation continues to build, making 'Rocky Aur Rani Kii Prem Kahaani' one of the most highly anticipated films of the year.