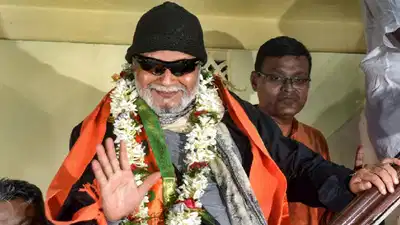 Film actor cum BJP leader Mithun Chakraborty, responding to TMC's taunt, said that no one can reduce his TRP until he dies. Mithun will campaign for the BJP in the Tripura assembly elections.
BJP leader cum Bollywood star Mithun Chakraborty opened his mouth on the controversy over Bengali film Prajapati. He said that his TRP can never decrease. Mithun Chakraborty and BJP leader Shubhendu Adhikari left for election campaign in Tripura on Tuesday. Responding to questions from reporters at the Kolkata airport, Mithun said, "Until I die, no one can reduce my TRP", while on TMC leader Kunal Ghosh's statement, Mithun said, "I am does not respond to those things of Ganguram".
Talking about Mithun Chakraborty's performance in the film Prajapati, Trinamool spokesperson Kunal Ghosh had said, "I have heard that Dev is unable to speak through his mouth. His taking Mithun Da has become a suicidal decision. Mithun's acting has been flop. Trinamool MP Dev did not support Kunal's statement and criticized Kunal.
The date of Tripura assembly elections is yet to be announced. BJP's preparations are in full swing in Tripura. BJP has already started programs like 'Vijay Sankalp Sabha', 'Jan Vishwas Yatra' there.
Tripura Chief Minister Manik Saha is also holding election rallies and this time Shubhendu Adhikari and BJP's star leader Mithun Chakraborty are also going to Tripura in view of voting in this neighboring Bengali state. Both the stalwarts of BJP will participate in different programs at different places in Tripura. After staying overnight in Tripura on Tuesday, he will address 'Vijay Sankalp Sabha' at Teliamura on Wednesday morning. Mithun is also scheduled to participate in a Jan Vishwas Yatra in Tripura's Majlispur later in the afternoon.
Shubhendu Adhikari will address party workers and supporters from neighboring states at the 'Vijay Sankalp Sabha' in Bagma on Tuesday. Then go to Charilam. Shubhendu will join the 'Jan Vishwas Yatra' there. After this, he has a program to participate in another 'Jan Vishwas Yatra' in Vishalgarh. Let us tell you that Trinamool Congress has announced to contest the assembly elections in Tripura this time. In such a situation, the BJP is using the BJP leaders of Bengal to woo the Bengali vote. A few days back Mamata Banerjee also visited Tripura and in the month of February Mamta Banerjee and Abhishek Banerjee have a program to visit Meghalaya and Tripura again.