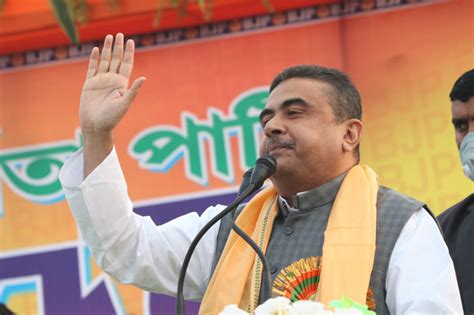 I have seen the horrors of CPM in West Bengal. People of Tripura are also rich in that experience under CPM rule. Do not let them raise their heads in a single booth. This is how opposition leader of West Bengal Subvendu Adhikari warned the people of Tripura while participating in the public meeting organized on the occasion of Jan Biswas Yatra at Charilam in Sipahijla district today.
Today, he turned the page of memory to the people of Tripura and reminded the story of Nandigram, Morichjhapi, Nanur killings in West Bengal. His plea, don't give chance to that CPM in Tripura.
On this day he said, I am fighting against CPM since 1988. I have seen the horrors of CPM. The people of Tripura also have bitter experience of the dark days of the Left. He claimed that CPM does not understand anything except its own party. Political color does nothing without judgment. So, the red party is not visible. Maybe it's hidden in the hole, he says in a sarcastic tone.
According to Subhendu, there was a change of power in Tripura in 2018. Don't let them raise their heads even in the next assembly elections. In his sarcasm, the CPM called former Prime Minister Indira Gandhi a witch and the Congress a bourgeois party. However, CPM has tied up with the Congress in West Bengal. Therefore, those two parties have been wiped out in West Bengal in the 2021 assembly elections. Be wary of Congress-CPM opportunism and bourgeois alliance, he advises. BJP will take the next five years of development in Tripura further.
He claimed that Prime Minister Narendra Modi has eradicated familyism, casteism and favoritism politics across the country. In return, he provided toilets, Swachh Bharat, free gas cylinders, housing schemes, Kisan Samman Nidhi and water to every house. He raised his voice, Tripura needs a double engine government again.