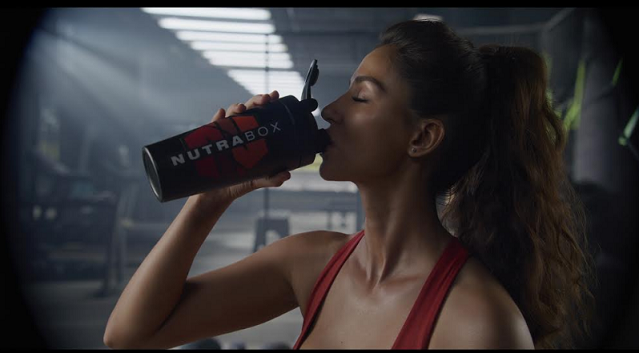 The makers of India's 1st complete certified D2C sports nutrition brand – NutraBox have launched a new digital campaign featuring fitness icon Disha Patani. The TVCs are based on the tagline #PehchaanKaamSeHotiHai, showing Disha Patani as a strong, independent woman making the right choice be it life or your daily workout supplement. Her simple principle of working hard to achieve the goals, shows the enormous value she puts on her health and given her loyal fanbase, Nutrabox hopes to reach out to spread the value of healthy lifestyle. Nutrabox products are certified by Labdoor USA, Informed Choice UK. Clean Label USA Cologne list Germany& Trustified India. Nutrabox products are tested for label accuracy, over 250 Banned substances harmful for health, contaminations, heavy metals & purity.
Nutrabox teams-up with Fitness Icon Disha Patani
The D2C sports nutrition brand Nutrabox, boasts of various health and fitness supplements like Nutrabox protein powders that are formulated with high-quality ingredients and are free from harmful additives making it a good choice for anyone looking for a reliable and effective source of protein to support their fitness goals.
Disha Patani and Nutrabox: Indias Game-Changing Certified Whey Protein
YouTube link: youtu.be/21_iRoVrqd0
Talking about her association Brand Ambassador Disha Patani shares, "I'm excited to be a part of the Nutrabox family. Working out every day and maintaining a fit lifestyle has been my passion. While our schedule keeps us busy and occupied a regular work-out regime coupled with a right intake of protein is what will make us achieve our goals."
Nutrabox's 100% whey protein powder is a blend of whey protein concentrate and isolate. It is India's first complete certified whey protein powder. It comes in 15 delicious flavours. It is one of the best whey protein powder available in the market because it is certified by Labdoor USA, Informed Choice UK Trustified India, Cologne List Germany and Clean Label project USA. It has a complete protein profile and gives 24 grams of pure whey protein per serving. It has added benefits of BCAA, MCTs and DHAs.
Mr. Nihar Desai, Founder Nutrabox added, "We are pleased to announce Fitness Icon Disha Patani as the brand ambassador, which will help with brand recognition. Product adulteration is huge problem in this industry so we have developed this strategy of selling Nutrabox products on nutrabox app & official website only. Our customers are rest assured they get genuine supplements when bought directly. Currently we are abstaining from selling on any other marketplaces to combat dupes. We sell exclusively on Nutrabox mobile app & website to maintain product authenticity & we will continue to do so to protect our customer."
Through this partnership, the sports nutrition brand will be engaging its flagship products, which include Nutrabox 100% Whey Protein Powder with 15 yummy flavours to choose from Ripped BCAA for hydration in six tangy flavours, Nutrabox Ripped 100% Whey Isolate, 100% Pure Raw Whey Protein Powder, Vegan protein, amino acids, pre-workouts, vitamins and more.
Speaking on the TV Campaign & roping in Disha Patani, Mr. Anand Oberoi Ad film Director & MD, Oberoi IBC India Pvt. Ltd. said, "Disha Patani is a perfect fit for Nutrabox due to her popularity and appeal among the target audience that can help create a positive impact on the brands visibility, enhance brand recognition and reach. Given her dedication to fitness and her youthful image, she can effectively promote the brands products and values."
​