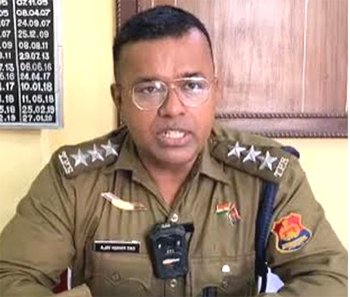 Former SDPO (Sadar) Ajay Kumar Das, known for his exemplary performance in reducing thefts, dacoities, and drug peddling in Agartala town, has been issued a show-cause notice and directed to file a reply within five days. Das was recently "closed" from his charge without any clear reason and posted without charge at the state police headquarters. Sources reveal that DIG (southern range) Monchak Ibbar has been assigned to investigate allegations against Das, including his alleged ill-treatment of Nilabh Adhikary, the project manager of the smart city project in west Agartala police station, based on a complaint filed by smart city project chief Shailesh Yadav.
According to sources, Ajay Kumar Das had earned the ire of influential businessmen and powerful drug dealers due to his diligent work in seizing large hauls of drugs, which led to his removal from his post. Sources further highlight that on the day of his closure, Das had seized a significant amount of drugs from the sensitive Master Para area. It is suspected that these influential individuals may have used their political connections to persuade political leaders to remove Das from his post to protect their illegal businesses, to which politicians may have obliged due to their own vested interests.
The allegations against Ajay Kumar Das raise questions about the motives behind his sudden removal and the need for a fair and transparent investigation into the matter. Das's track record of effective policing and his efforts to curb crime and drug trafficking should be duly acknowledged and respected, and any allegations against him should be thoroughly examined without bias. It is crucial to ensure that justice prevails and that the rule of law is upheld in such cases.