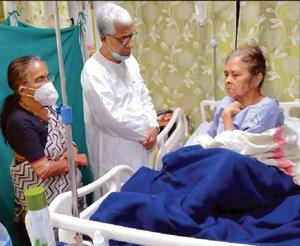 Former Chief Minister of Tripura, Manik Sarkar, skipped the Communist Party of India (Marxist) Central Committee meeting on Monday, citing illness. However, he didn't let his illness stop him from performing his social duty as he visited the ailing mother of the current Chief Minister, Biplab Kumar Deb.
Sarkar, who is also a member of the Central Committee of the CPI(M), was expected to attend the meeting, which was being held in New Delhi. However, he informed the party that he couldn't attend due to health reasons.
Despite his illness, Sarkar took the time to visit the mother of Chief Minister Deb, who is currently undergoing treatment at a hospital in Agartala. Sarkar enquired about her health and wished her a speedy recovery.
The former Chief Minister's gesture was appreciated by members of the CPI(M) and others who lauded his commitment to social responsibilities.
Sarkar served as the Chief Minister of Tripura for 20 years, from 1998 to 2018, before being succeeded by Biplab Kumar Deb. He remains an important figure in the CPI(M) and is known for his simple lifestyle and commitment to social justice.