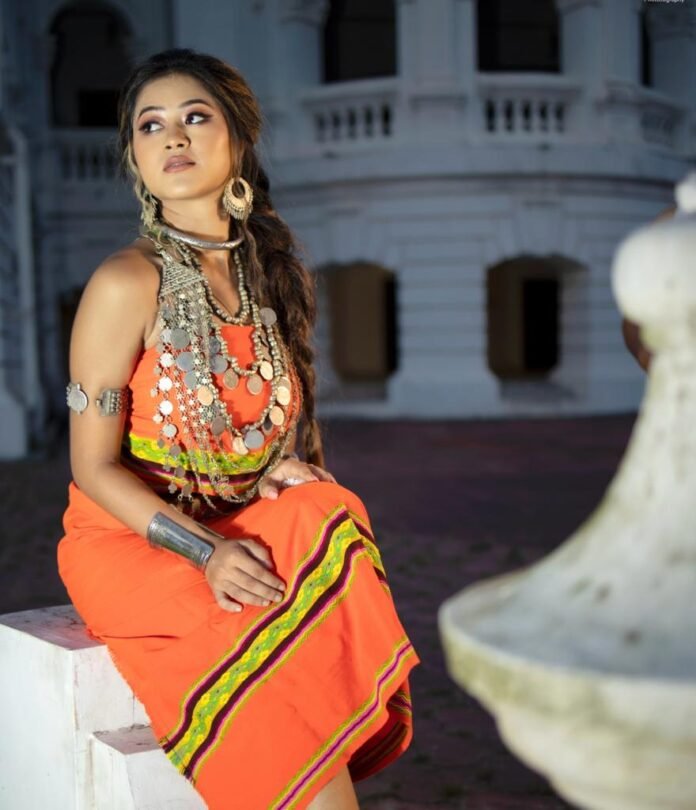 A young and exceptionally talented actress, Manorama Reang, has emerged as a beacon of creativity and inspiration. With a staggering 130k+ organic followers on social media, her journey from a budding artist to a sensation is extraordinary.
Manorama's passion for videos was ignited in her childhood, spurred by the influence of stalwarts like Sarat Reang, Krushal Reang, and many others during those days. She embarked on her artistic voyage with a cover video, catching the discerning eye of British Molsoi. As platforms like TikTok and Likee burgeoned, so did her confidence.
A student at Holy Cross College pursuing English Honors in B.A., Manorama conscientiously dedicates her weekends to her craft, ensuring that her academic pursuits remain undisturbed. Balancing the demands of both worlds is no mean feat, but her tenacity shines through.
Having graced 36 music videos, Manorama cherishes two particular gems in her repertoire: "Sajakya Kothoma" by TB Studio, a soul-stirring Kokborok melody, and the enchanting Kaubru ballad, "O  Khe Mkha Ni Brui".
In a candid chat with Borok Times, she exudes her love for traditional attire, a facet she passionately showcases in her videos. "Wearing our ethnic dresses resonates with me the most. Whether it's Kokborok or Kaubru, you'll find me draped in our rich heritage," she enthuses.
Manorama's magnetic charm is as much a testament to her innate talent as it is to the unwavering support of her ardent admirers. "The trust and confidence my audience places in me propels me forward. They are the reason I am able to bring joy to so many lives today," she affirms with humility.
With an upcoming project in collaboration with AJD Productions on the horizon, Manorama Reang's star is bound to ascend even higher. "Prepare to be enchanted," she hints, leaving her fans in eager anticipation.
In the vibrant tapestry of Tripura's cultural landscape, Manorama Reang stands as a luminary, casting her radiant light far and wide. Her journey is not just about entertainment, but a testament to the power of dreams, perseverance, and the indomitable spirit of youth.