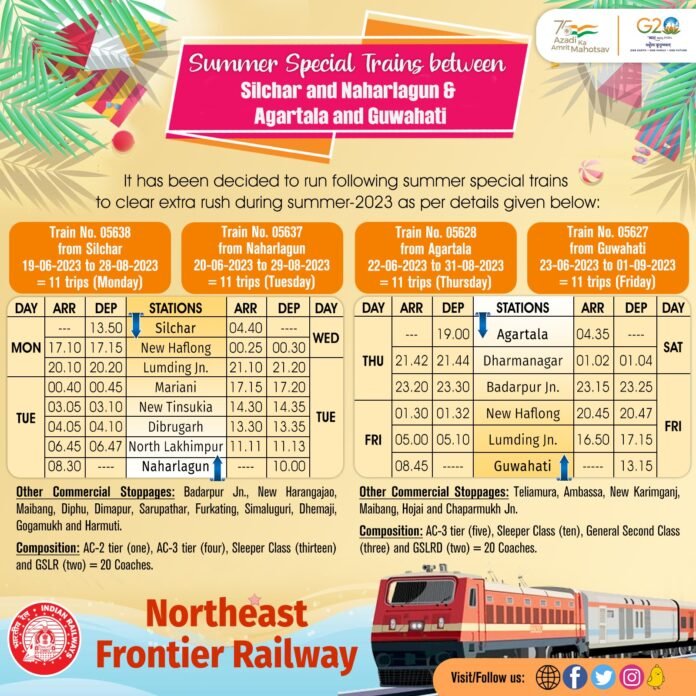 In a bid to enhance interstate train connectivity and facilitate seamless travel, the Indian Railways has announced the introduction of summer special trains between key destinations in the Northeast region. These new train services will connect Silchar in the Barak Valley of Assam with Naharlagun in Arunachal Pradesh, as well as Agartala in Tripura with Guwahati in Assam.
The Silchar-Naharlagun summer special train aims to bridge the gap between these two important locations, allowing residents and tourists alike to travel conveniently and explore the picturesque landscapes of Arunachal Pradesh. This initiative will not only promote tourism but also facilitate the movement of people for educational, business, and other purposes. The train will traverse through scenic terrains, showcasing the region's natural beauty along the way.
Similarly, the Agartala-Guwahati summer special train will establish a direct rail link between the capital of Tripura and the bustling city of Guwahati in Assam. This connection will play a pivotal role in fostering economic growth, encouraging trade, and strengthening cultural ties between the two states. It will provide a hassle-free travel option for passengers, eliminating the need for multiple modes of transportation.
The introduction of these summer special trains reflects the Indian Railways' commitment to improving connectivity and promoting regional development. The initiative is expected to boost tourism, trade, and overall connectivity within the Northeast region, benefiting both residents and visitors. By facilitating easy access to these destinations, the railway network contributes to the growth of local economies and enhances the quality of life for people residing in these areas.
Passengers can look forward to a comfortable and enjoyable travel experience on these special trains, equipped with modern amenities and efficient services. The Indian Railways aims to ensure the highest standards of safety, comfort, and convenience for all travelers, making these summer special trains a preferred choice for inter-state travel during the summer season.
With the introduction of the Silchar-Naharlagun and Agartala-Guwahati summer special trains, the Indian Railways takes a significant step towards strengthening interstate connectivity in the Northeast region. As these trains begin their operations, passengers can eagerly anticipate seamless journeys, exploring the diverse cultural and natural heritage of the Barak Valley, Arunachal Pradesh, Tripura, and Assam.