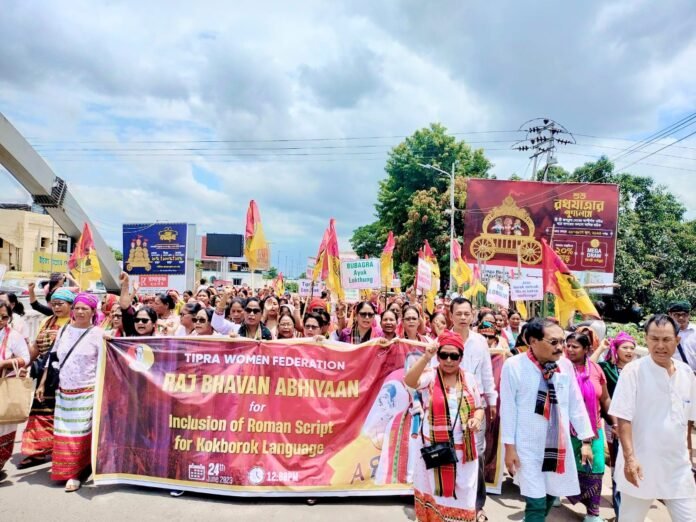 In a powerful display of unity and determination, the TIPRA Women Federation (TWF) organized a march to the Raj Bhawan on June 24, 2023, demanding the adoption of the Roman script for the Kokborok language. The women's wing of TIPRA sought to convey a strong message to the Governor, urging them to address the long-standing demand of the people.
Thousands of passionate individuals gathered at the Astabal Ground in Agartala, ready to raise their voices and fight for their cause. The march commenced with fervor, as determined participants advanced towards the Raj Bhawan, carrying banners and chanting slogans advocating for the Roman script. However, the protesters were halted by the police near the Circuit House, where they expressed their discontent but remained undeterred.
The primary objective of this protest is to safeguard the Kokborok language, a cultural treasure deeply cherished by its speakers. The TWF emphasized that they refuse to accept any form of Bengali imposition and are determined to preserve and protect their language. The adoption of the Roman script is seen as a vital step towards ensuring the longevity and growth of Kokborok, allowing it to flourish in the modern world while maintaining its unique identity.
The TIPRA Women Federation, representing the aspirations and concerns of countless individuals, seeks to draw the attention of the Governor and other relevant authorities to their demand. By organizing this massive protest, they aim to create awareness and garner support from the broader community.
The determination and resilience demonstrated by the TIPRA Women Federation and the participants of the march signify the strong bond between the people and their language. The protesters firmly believe that the adoption of the Roman script will not only enhance the development and promotion of Kokborok but also uphold the rights of its speakers.
As the protest continues to make headlines, the TIPRA Women Federation remains resolute in their pursuit of linguistic justice. The demand for the Roman script for Kokborok serves as a reminder that language is an integral part of identity and cultural heritage, and it deserves to be honored and protected.