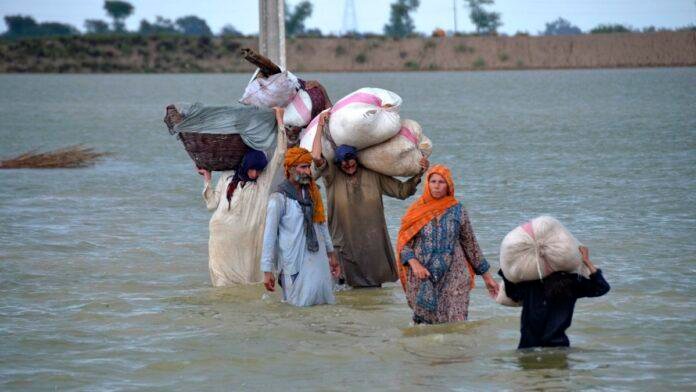 These days there is an outcry in Pakistan due to floods. Millions of people have been affected due to floods in Pakistan. The situation is that the death toll due to floods in the country is also increasing. According to the information, the death toll from floods in Pakistan has crossed 1,000. In addition, thousands of people have been injured or displaced.
Geo News quoted the National Disaster Management Authority (NDMA) as saying that since June 14, at least 1,033 people have died due to rains and floods, while 1,527 people have been injured. In the last 24 hours in Pakistan, around 119 people died and 71 people were injured. According to the data, four people have died in Balochistan, six in Gilgit-Baltistan, 31 in Khyber Pakhtunkhwa, and 76 in Sindh.
The floods wreaked havoc in Pakistan after 14 June. In Pakistan since June 14, 3,451.5 km of road have been damaged and 149 bridges have collapsed, and 170 shops have been destroyed by floods. At the same time, 949,858 houses have been partially or completely destroyed. Also 662,446 houses have been partially damaged and 287,412 completely destroyed. Apart from this, 719,558 animals have also died.
According to Geo News, at least 110 districts of Pakistan are in the grip of floods, out of which 72 districts have been declared as disaster affected. Let us tell you that Pakistan is battling its worst natural disaster in more than a decade. The floods in Pakistan have affected the lives of millions. After which the Government of Pakistan declared a national emergency.
The latest report by the National Disaster Management Authority shows that 5,773,063 people have been affected by the floods. According to their estimates, more than 33 million population in Pakistan has been affected by floods. The authority said that 51,275 have been rescued so far, while 498,442 have been taken to relief camps. According to the NDMA, Pakistan has received 388.7 mm of rain this year. Which is 190.07% higher than the 30-year average. On August 25, Pakistan received 375.4 mm of rain.
These rains mainly occurred in Balochistan, Sindh, and parts of Punjab, with Balochistan receiving five times the 30-year average and Sindh 5.7 times the 30-year average, the statement said. On August 26, the Flood Forecasting Department (FFD) of the Pakistan Meteorological Department (PMD) issued a warning. High-level flooding is expected in the Kabul River, located in Nowshera in KP province, as well as tributaries of the Kabul and Indus.