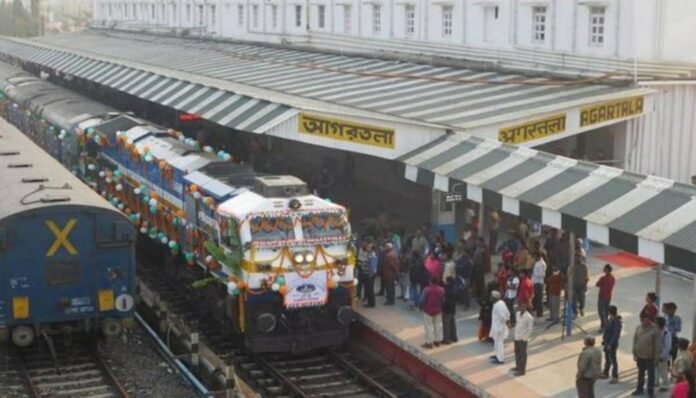 Indian Railways is making remarkable strides towards realizing the vision of Prime Minister Narendra Modi's 'Act East Policy' and 'Neighborhood First Policy' through the execution of several new railway line projects connecting neighboring countries. One of the significant projects nearing completion is the Agartala-Akhaura international rail line, which aims to enhance connectivity between India and Bangladesh. The construction of this crucial railway project, linking Agartala, the capital city of Tripura, to Akhaura in Bangladesh, is progressing rapidly.
The Agartala-Akhaura rail line spans a length of 15.064 kilometers, with 5.05 kilometers falling in India and 10.014 kilometers in Bangladesh. This railway connection will be facilitated through an international immigration station at Nischintapur, serving as a dual gauge station for seamless passenger and goods interchange between the two countries. The project includes the construction of one major bridge and three minor bridges. Once completed, the travel time between Agartala and Kolkata, via Dhaka, will be significantly reduced from approximately 31 hours to just 10 hours.
This new rail link holds immense potential to boost bilateral relations between India and Bangladesh, fostering economic growth and regional cooperation. It will particularly benefit the border areas by promoting the development of small-scale industries and tourism in the northeastern region, with Tripura standing to gain significantly. Furthermore, the improved connectivity will facilitate faster and more efficient export and import of goods, enabling local producers to expand their market reach.
The estimated cost for the completion of the Indian portion of the Agartala-Akhaura rail project is Rs. 862.58 crores. The Ministry of Development of North Eastern Region (DONER) is funding the project, with Rs. 708.74 crores already disbursed and utilized. Efforts are underway to secure the remaining funds from the Ministry of DONER to expedite the project's completion. To ensure the swift progress of the remaining work, Indian Railways has proactively allocated Rs. 153.84 crores from its own budget. This financial infusion has propelled the project forward, with construction work advancing at full speed.
Sabyasachi De, Chief Public Relations Officer (CPRO) of Northeast Frontier Railway (NFR), announced this significant development through a press release. The Agartala-Akhaura rail project exemplifies Indian Railways' commitment to strengthening regional connectivity, promoting economic integration, and fostering closer ties with neighboring countries.