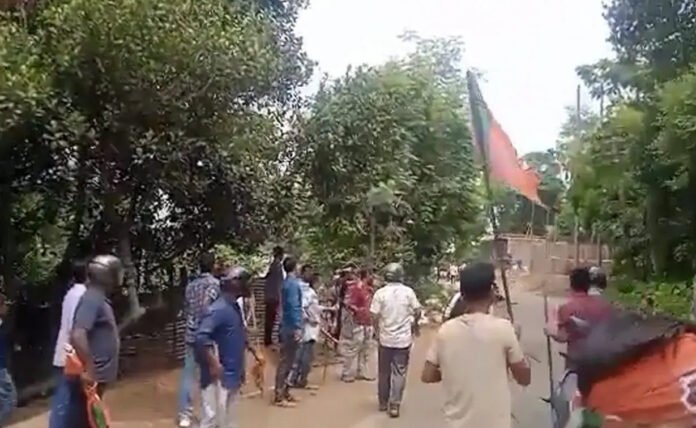 In a recent bout of violence in Tripura's Sepahijala district, clashes between supporters of the ruling BJP and Tipra Motha, the newly formed party led by erstwhile royal Pradyot Kishore Manikya Debbarman, resulted in 12 individuals sustaining injuries. Notably, among the wounded are several police officers, including Rathindra Debbarma, the officer-in-charge of the Takarjala police station.
The incident unfolded when Tipra Motha workers allegedly obstructed BJP members from participating in a pre-scheduled event, leading to a heated confrontation. While Tipra Motha workers maintain that BJP-affiliated outsiders were responsible for inciting disruptions, the BJP argues the opposite.
Biswajit Koloi, Takarjala MLA and Tipra Motha leader, accused the BJP of importing outsiders to instigate violence, thereby jeopardizing local residents. He criticized both the police and the ruling party, asserting that the entire episode appeared premeditated.
The clashes have had a palpable impact on the communities of Jampuijala and Takarjala, leaving an atmosphere of tension in their wake. In response, a substantial deployment of security forces has been made to forestall any further escalation.
The BJP had been conducting an extensive campaign in the Takarjala and Jampuijala areas in the days leading up to the incident. The campaign's culmination was intended to be a workers' conference under the guidance of the party's state president, Rajib Bhattacharya, at the Bukruai Community Hall in Jampuijala block.
However, Tipra Motha supporters allegedly impeded BJP workers from reaching their intended destinations. Consequently, nine BJP members sustained injuries during the ensuing altercation.
The BJP state president emphasized the party's efforts to strengthen its presence across the state in preparation for the upcoming parliamentary elections, viewing the forthcoming seats as a gesture of support for Prime Minister Narendra Modi.