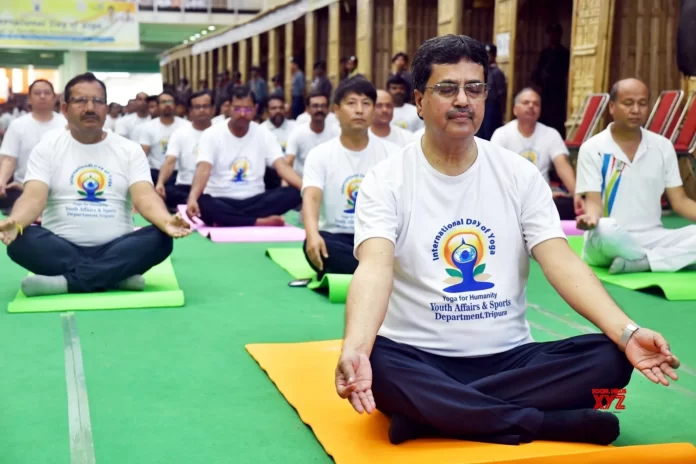 Introduction: The United Nations designated International Yoga Day was celebrated with great enthusiasm and joy throughout the state of Tripura. Chief Minister Dr. Manik Saha led the celebrations, which included various programs held at different locations across the state. The main event took place at the international fairground in Hapania and was attended by government officials, including the Minister for Sports and Youth Affairs Tinku Roy, Deputy Speaker of the Assembly Ramprasad Paul, and local MLA Meena Rani Sarkar.
Celebrations and Participation: The chief minister, Dr. Manik Saha, and Minister Tinku Roy also attended a Yoga Day program at NSRCC in the Netaji Chaumuhuni area. Additionally, the Minister for Food and Civil Supply, Sushanta Chowdhury, participated in the international Yoga Day program organized by the Ranir Bazar 'Mandal' committee in Ranir Bazar. Minister Sudhangshu Das took part in the Yoga Day program in the Fatikroy market, organized by the SDM Kumarghat and the Department of Sports and Youth Affairs of the subdivision.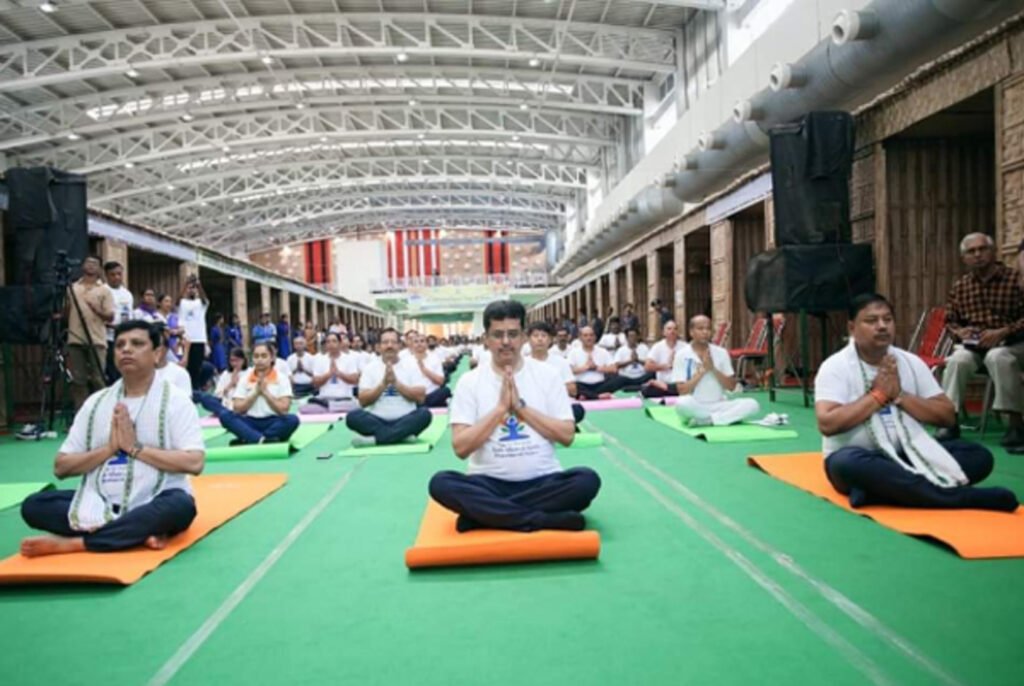 In Bishalgarh, MP (West) and senior party leader Pratima Bhowmik joined hundreds of party workers and supporters in the International Yoga Day program. Later, Pratima engaged with SSG (Saksharata Samiti Ghar) members, Anganwadi workers, and Asha workers in the Ram Nagar assembly constituency.
Enthusiasm and Significance: The celebrations in Tripura showcased the enthusiasm and commitment of the state government and its leaders towards promoting the practice of yoga. International Yoga Day holds significance as it highlights the importance of yoga in maintaining physical and mental well-being. The participation of government officials, ministers, and party leaders in various programs across the state reflected their dedication to spreading awareness about yoga's benefits.
Yoga's Impact: Yoga has gained immense popularity in recent years due to its positive impact on health and well-being. The ancient practice offers a holistic approach to fitness, focusing on physical postures, breathing exercises, and meditation techniques. Through regular practice, individuals can experience improved flexibility, strength, stress reduction, and mental clarity.
Conclusion: The celebration of International Yoga Day in Tripura demonstrated the state's commitment to promoting the practice of yoga for the well-being of its citizens. Led by Chief Minister Dr. Manik Saha, government officials, ministers, and party leaders actively participated in various Yoga Day programs held across different locations in the state. The celebration emphasized the significance of yoga in maintaining physical and mental health and showcased the government's dedication to promoting a healthy and balanced lifestyle among its people.