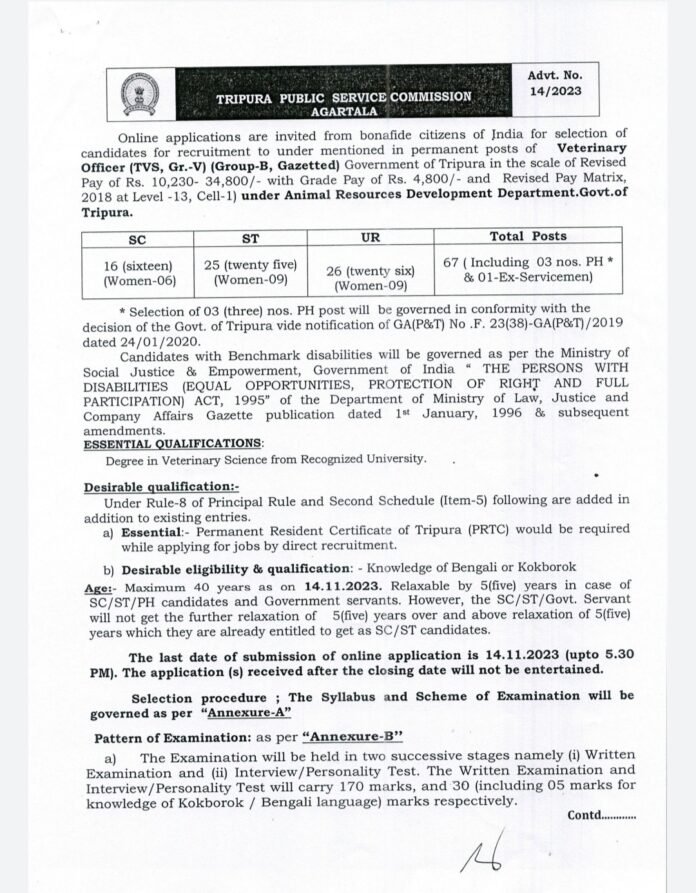 The Tripura Public Service Commission (TPSC) has announced the availability of 67 positions for the post of Veterinary Officer, Gr-B Gazetted. This presents a promising opportunity for individuals looking to make a meaningful contribution in the field of animal healthcare and welfare.
Position Details:
Name of Post: Veterinary Officer, Gr-B Gazetted
Number of Posts: 67
Eligibility Criteria:
Educational Qualifications:

Interested candidates should hold a recognized degree in Veterinary Science or an equivalent qualification from a reputed university or institution.

Age Limit:

Applicants must be within the age range of 22 to 40 years as of the closing date for applications. Age relaxation will be considered in accordance with government norms.

Selection Process:

The selection of candidates will be based on their performance in the TPSC examination.
Application Procedure:
Benefits:
Successful candidates will receive a competitive salary package along with other benefits in accordance with government regulations.
This announcement comes as a golden opportunity for qualified individuals to play a vital role in the realm of veterinary services and make a positive impact on animal welfare in the region. Prospective applicants are urged to visit the official TPSC website for comprehensive details regarding the application process, eligibility criteria, and selection procedure.
Take the first step towards an enriching career in veterinary services. Apply now and become a part of the dedicated team working towards excellence in animal healthcare in Tripura. Don't miss out on this opportunity!