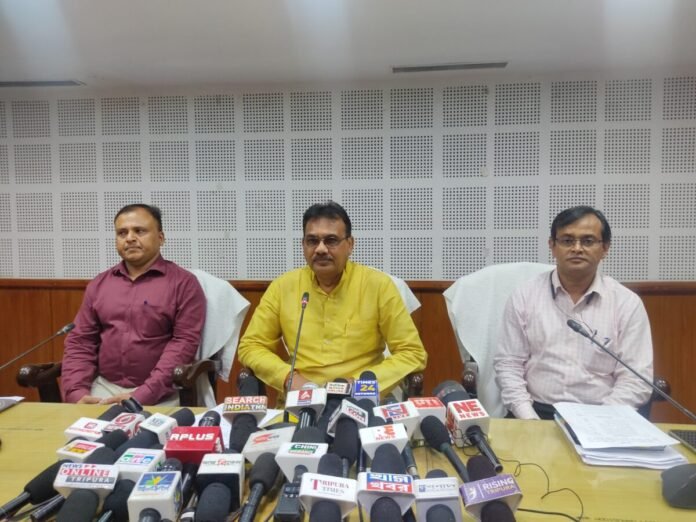 The Tripura government has announced an increase in the Festival Grant by Rs 300 for a substantial workforce of 1,97,176 employees and pensioners. This announcement was made by Finance Minister Pranajit Singha Roy during a press conference held at the Civil Secretariat in Agartala city on Thursday afternoon.
The decision to augment the Festival Grant, which will result in a total expenditure of Rs. 36 crore for the state government, has been warmly received by employees across various categories.
In the fiscal year 2022-23, the festival grant for DRW employees and pensioners, including Group-C and Group-D employees, was fixed at Rs. 1,500. With this adjustment, the grant has been raised to Rs. 1,800. Additionally, part-time workers, contract workers, casual workers, anganwadi workers, helpers, home guards, and SPO jawans, who received a festival grant of Rs. 1,700 in the previous fiscal year, will now receive Rs. 2,000 due to the Rs. 300 increase.
Finance Minister Pranjit Singh Roy clarified that the festival advance for government employees under group-A, group-B, group-C, and group-D will remain unchanged at Rs. 20,000 for this year. This grant and advance will benefit a diverse workforce, encompassing DRW employees, anganwadi workers/helpers, and contract workers, spreading festive joy across religious communities during celebrations such as Durga Puja, Christmas, Garia Puja, Buddha Purnima, Eid-Uz-Joha, Eid-ul-Fitr, Bengali New Year, Mahavir Jayanti, Guru Nanak's Birthday, and more.
The Finance Minister highlighted the steady increase in the festival grant over the years. From Rs. 700 in 2017-18, it rose to Rs. 1,000 in 2018-19, further increasing to Rs. 1,500 and Rs. 1,700 in the 2022-23 fiscal year. The latest increment of Rs. 300 will bolster the grant this year. As for the festival advance, it saw a substantial growth, escalating from Rs. 4,000 to Rs. 5,000 in 2017-18, eventually reaching Rs. 20,000 in the 2022-23 fiscal year.
Finance Secretary Apoorba Roy and Additional Secretary Akinchan Sarkar were also present during the press conference to provide additional insights and details on these financial measures. This move reflects the government's commitment to ensuring the well-being and festive spirit of its workforce.