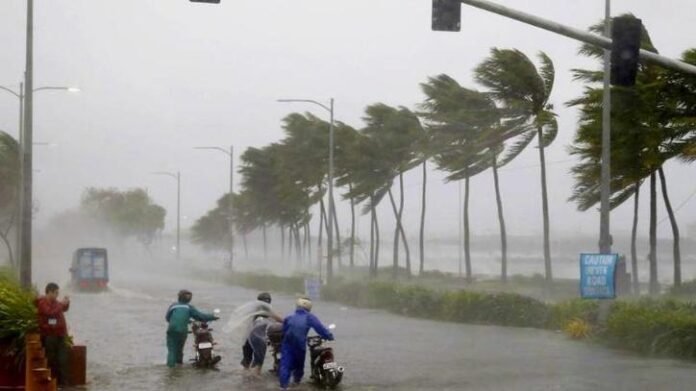 In a recent update, the Indian Meteorological Department (IMD) has issued a warning predicting heavy rainfall in the state of Kerala, as Cyclone Biparjoy continues to intensify. The cyclone, which has been gradually gathering strength, is expected to bring torrential downpours and pose potential risks to the region.
The IMD has urged residents and local authorities in Kerala to take necessary precautions and prepare for the anticipated severe weather conditions. As Cyclone Biparjoy gains momentum, it is essential for individuals to stay updated with the latest forecasts and heed any evacuation advisories issued by the authorities.
The potential impact of Cyclone Biparjoy includes intense rainfall, strong winds, and rough sea conditions along the coastal areas of Kerala. These adverse weather conditions could lead to waterlogging, flash floods, and landslides in vulnerable regions. It is crucial for people residing in low-lying areas and near water bodies to exercise caution and remain vigilant.
The IMD, along with other relevant agencies, is closely monitoring the cyclone's progression and providing regular updates to ensure public safety. They have advised fishermen to refrain from venturing into the sea until further notice and have alerted coastal communities about potential dangers posed by high tides and strong currents.
Local authorities have been urged to activate emergency response mechanisms, including setting up relief shelters and arranging for swift evacuation if required. Adequate measures are being taken to ensure the availability of essential services such as electricity, clean water, and medical aid during and after the cyclone's passage.
The government, disaster management agencies, and various relief organizations are working in coordination to mitigate the potential impact of Cyclone Biparjoy. Efforts are underway to disseminate crucial information to the public, distribute emergency supplies, and deploy rescue teams in strategic locations to swiftly respond to any crisis situations that may arise.
It is advisable for individuals in Kerala to stay tuned to reliable sources of information, such as local authorities and weather updates from the IMD, to stay informed about the evolving situation. By remaining alert and following the guidelines and instructions provided by the authorities, residents can effectively cope with the challenges posed by Cyclone Biparjoy and ensure their safety and well-being.