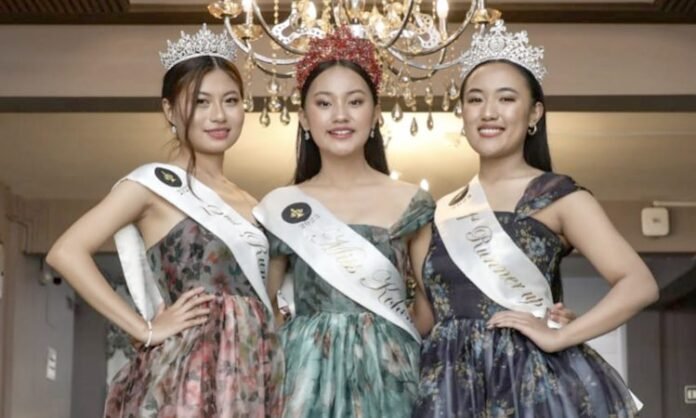 A 18-year-old Keziah Mero was crowned Miss Kohima 2023, captivating the audience and judges alike. The prestigious event unfolded in a spectacular ceremony that showcased the vibrant cultural diversity of Nagaland.
Keziah, with her poise and elegance, emerged as the epitome of beauty, winning the hearts of both the judges and the enthusiastic crowd. The Miss Kohima pageant, a celebration of talent, intelligence, and charisma, saw participants from across the region, but it was Keziah who stole the spotlight.
The coronation ceremony, held amidst a backdrop of colorful traditional attires and mesmerizing performances, marked a significant moment in Keziah's journey. Her radiant smile and confident demeanor resonated with the spirit of the pageant, reflecting the rich cultural heritage of Nagaland.
As the newly crowned Miss Kohima, Keziah expressed gratitude for the support she received and emphasized her commitment to using the platform to make a positive impact. "I am honored and excited to represent Kohima. This is not just a title; it's a responsibility, and I am ready to contribute to the community," she shared with enthusiasm.
More About It
The pageant not only celebrated beauty but also showcased the talent and intelligence of the contestants through various segments, including traditional wear, talent showcase, and question-answer rounds. Keziah's performance throughout the competition demonstrated a perfect blend of grace, intelligence, and cultural pride.
The crowning of Miss Kohima 2023 is more than a personal triumph for Keziah; it symbolizes the aspirations and dreams of young women in Nagaland. The pageant serves as a platform for these women to showcase their abilities and make meaningful contributions to society.
The event garnered significant attention not only for the beauty on display but also for the celebration of Nagaland's unique culture. From traditional dances to intricately designed attires, the pageant highlighted the rich tapestry of traditions that define the region.
Keziah Mero's journey as Miss Kohima 2023 is just beginning, and the community eagerly anticipates the positive impact she will make during her reign. Her victory not only marks a personal achievement but also signifies a new chapter in the narrative of empowered young women in Nagaland.
As the applause resonates and the spotlight shines on Keziah, her story becomes an inspiration for aspiring young women, reinforcing the belief that beauty, intelligence, and grace can converge to create a powerful force for positive change.