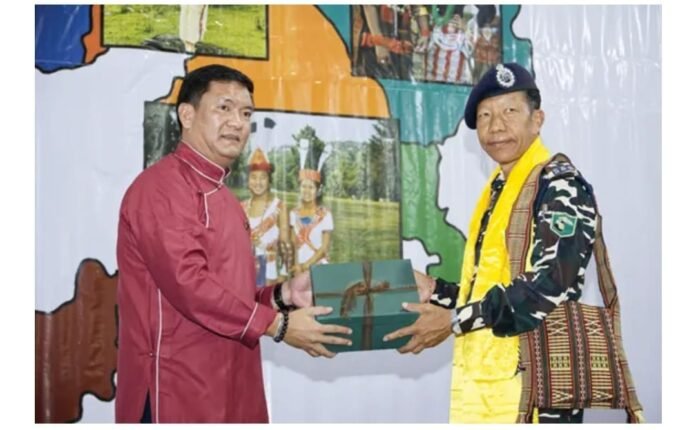 BOMDILA: The Chief Minister of Arunachal Pradesh, Pema Khandu, enthusiastically participated in the grand celebration of the 10th anniversary of the Arunachal Scouts, held in the picturesque town of Bomdila, located in the West Kameng district. This event marked a decade of the battalion's exceptional service to both the state and the nation.
The commemoration witnessed an atmosphere of pride and honor as Chief Minister Pema Khandu graced the occasion with his presence. With unwavering dedication, the Arunachal Scouts have played a pivotal role in safeguarding the interests and security of the state and the nation. Their commitment to duty and tireless efforts have earned them deep admiration and respect.
During the event, Chief Minister Pema Khandu expressed his heartfelt appreciation for the Arunachal Scouts, lauding their remarkable contributions. He acknowledged the battalion's unwavering commitment to protecting the state's borders and maintaining peace and harmony within the region. Khandu extended his gratitude to all the brave soldiers of the Arunachal Scouts for their relentless service and selfless sacrifice.
The Arunachal Scouts, with their distinctive green berets, have become synonymous with courage and resilience. They have braved challenging terrains and adverse weather conditions, demonstrating their mettle in the face of adversity. Their unwavering commitment to the safety and welfare of the people of Arunachal Pradesh is a source of inspiration for all.
The 10th-anniversary celebration showcased the battalion's achievements over the years. Various cultural events, exhibitions, and displays were organized to highlight the Arunachal Scouts' rich heritage and their invaluable contributions. It provided an opportunity for the local community to interact with the soldiers and gain a deeper understanding of their role in maintaining peace and security.
Chief Minister Pema Khandu also reiterated the government's commitment to further bolstering the infrastructure and support provided to the Arunachal Scouts. Recognizing the crucial role they play in defending the borders and ensuring the well-being of the state's inhabitants, Khandu pledged continued assistance and resources to strengthen their capabilities.
The celebration concluded with a resounding display of gratitude from the people of Arunachal Pradesh towards the Arunachal Scouts. Their indomitable spirit and selfless dedication have earned them immense respect and admiration throughout the state.
As Arunachal Pradesh Chief Minister Pema Khandu departed from the event, he left behind a lasting impression of solidarity and gratitude. The 10th-anniversary celebration of the Arunachal Scouts stands as a testament to the battalion's unwavering commitment and the state's recognition of their invaluable service.