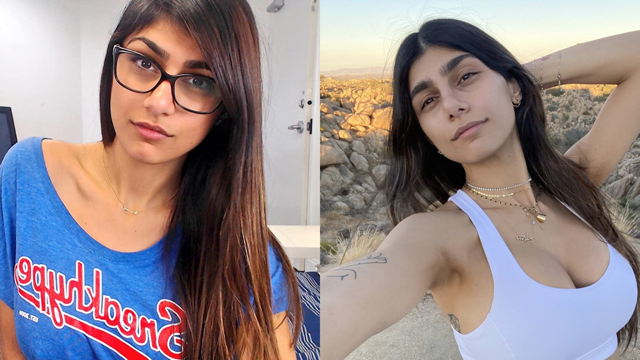 Things you did not know about Mia Khalifa
The American adult film industry sees thousands of men and women joining it every year. But most of these men and women never experience success and soon leave the industry never to return!
However, once in a while one adult star arrives on the scene who creates a global craze and has a huge fan following. Mia Khalifa is one such adult film star. She is one of the few stars who became an overnight sensation and has remained one even long after she left the industry!
Here are some lesser-known yet interesting facts about Mia Khalifa:
Born as Sarah Joe Chamoun in Beirut, Lebanon in 1993. When she was 7, her family moved to the US and settled in Montgomery County, Maryland.
She was born into a Muslim family but has now converted to Christianity. In Lebanon, she studied in a French school where she also learned English. When the family shifted to the US, she was enrolled in the local school where she played the sport of Lacrosse.
While in school, young Sarah was bullied a lot for her dark skin and her Lebanese origin, especially after the 9/11 attacks. She was also teased as one of the weirdest girls in her school. But young Sarah remained unmoved by this bullying and continued with her studies
She is a Bachelor of Arts in History from the University of Texas at El Paso. Mia Khalifa began working as a bartender and a model while she was still studying. She even appeared as the briefcase girl on a Spanish game show. After her graduation, she took up a job at the Whataburger store in Miami, Florida. Little did she know that this assignment was about to change her life!
One day while on the job, one of her customers approached her with an offer to act in the adult entertainment industry. One of her first videos was shot where she was shown wearing a hijab! Soon after the release of this video, she started receiving 'death threats' from organisations like ISIS and other individuals.
Sarah Joe Chamoun had a dog named Mia and she was a fan of American rapper Wiz Khalifa. Hence when the time came for her to choose her screen name, she chose Mia Khalifa! She even created another screen name –Mia Callista, which also became quite famous.
Her first video became an overnight talking point across the world and made Mia Khalifa famous, but also landed her a controversy too! She was immediately disowned by her family and the two have remained incommunicado since!
Mia Khalifa claims that she worked in the adult entertainment industry for just 3 months, but those 3 months gave her a lifetime of publicity and made her famous worldwide.
Mia Khalifa is a huge Batman fan and regularly updates her fans through her social media handles. She is also a great fan of Sofia Vergara and Kim Kardashian. Infact they are even her role models!
Mia Khalifa has two tattoos on her. One is the Lebanese Forces Cross and the other quotes the first line of the Lebanese National Anthem. She even received a lot of flak for these two tattoos!
Within months of her debut, she was ranked as the No. 1 search adult entertainment celebrity in the world for the year 2014. This was a rare feat which was not achieved by many industry veterans even after spending years in the industry!
Mia Khalifa left the industry at the height of her career. She claimed that her choice of profession did not go down well with many including her family. Even the various threats she started receiving started impacting her personal life, forcing her to quit.
It has been many years since she has left the adult film industry. Currently, Mia Khalifa works as a social media personality with a huge fan following and also as a sports commentator.
Sarah Joe Chomoun's unusual choice of career did give her immense publicity, fame and also a new name, Mia Khalifa, but it also took away her family! While she has a huge fan following across the world, she also has an equal number of detractors globally!
While it is hard to say whether her decision was right or wrong, all we can say is there is hardly anyone across the globe who doesn't know her – for reasons good or bad!
Description
Mia Khalifa's career in the adult entertainment industry was very short. Even then, she is a globally known personality. Here are some lesser known facts about Mia Khalifa.