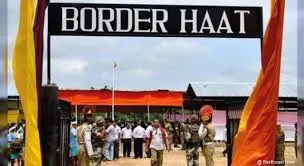 In a significant move, the BJP-led government of Tripura has submitted a proposal to the Central Government, seeking approval for the establishment of eight new border haats within the state. Currently, Tripura boasts two operational border haats, namely Srinagar in Sabroom of South district and Kamalasagar in Sepahijala district. Furthermore, the state already hosts a total of eight land customs stations, including an integrated check post in Agartala.
According to sources within the Tripura government, apart from the existing border haats at Srinagar and Kamalasagar, approvals have been secured for setting up border haats in Kamalpur of Dhalai district and Ragna in North district. Furthermore, the government has forwarded a proposal to establish border haats in eight additional locations.
The initiative to establish more border haats is part of the state government's efforts to enhance trade and economic activities in the border regions. Border haats serve as designated marketplaces where local residents from both sides of the international border can engage in cross-border trade of specified commodities. These haats not only facilitate economic exchange but also foster cultural and social ties between neighboring communities.
The Tripura government, recognizing the potential for growth, has taken a strategic decision to develop the Kumarghat industrial area in Unakoti district as a hub for the agarbatti (incense stick) sector. This move aims to bolster the local economy by promoting the production and trade of agarbattis, which have a high demand in both domestic and international markets.
The establishment of additional border haats and the development of the Kumarghat industrial area align with the government's vision to create employment opportunities, attract investment, and boost economic development in Tripura. These initiatives not only contribute to the state's progress but also strengthen its position as a vital gateway for cross-border trade in the region.
The proposal for the eight new border haats demonstrates the Tripura government's commitment to fostering trade relations and ensuring the socio-economic welfare of its residents. If approved by the Central Government, these border haats will play a crucial role in promoting cross-border commerce, improving livelihoods, and enhancing regional integration.