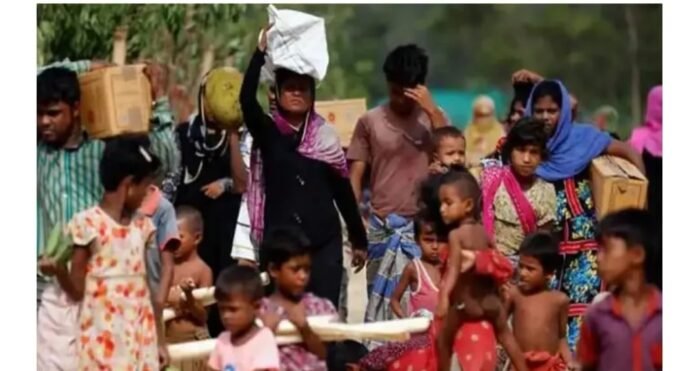 In a recent development, authorities in Imphal's Churachandpur district have apprehended a group of 11 individuals from Myanmar. The individuals, identified as Myanmar nationals, were taken into custody on suspicion of immigration violations.
The arrests took place following a joint operation conducted by local law enforcement agencies and immigration authorities. The individuals were reportedly found in a state of distress and were immediately provided with necessary medical assistance.
Preliminary investigations suggest that the arrested Myanmar nationals had entered Indian territory without proper documentation or valid visas. The authorities suspect that they may have been attempting to cross the border into India unlawfully.
Churachandpur, being situated close to the Indo-Myanmar border, has been a region of particular focus in monitoring and preventing illegal border crossings. The local administration and law enforcement agencies have been working diligently to curb such activities and ensure the integrity of the nation's borders.
The arrested individuals have been transferred to appropriate custody for further questioning and legal procedures. The authorities are working to gather more information about their motives, travel routes, and any potential involvement in other unlawful activities.
The incident serves as a reminder of the ongoing challenges faced by countries in managing border security and preventing illegal immigration. The authorities in Imphal are determined to maintain a strict vigilance to safeguard national security and ensure compliance with immigration laws.
The Ministry of External Affairs and relevant agencies will be informed about the arrests, and necessary diplomatic protocols will be followed to address the situation and coordinate with Myanmar authorities if required.
As investigations continue, the local administration urges residents to remain vigilant and report any suspicious activities to the authorities. Such cooperation is essential in maintaining the safety and security of the region.
The apprehension of these individuals highlights the complexities surrounding border control and immigration issues. It underscores the need for continuous efforts to strengthen border security and enhance cooperation between neighboring countries to effectively address these challenges.