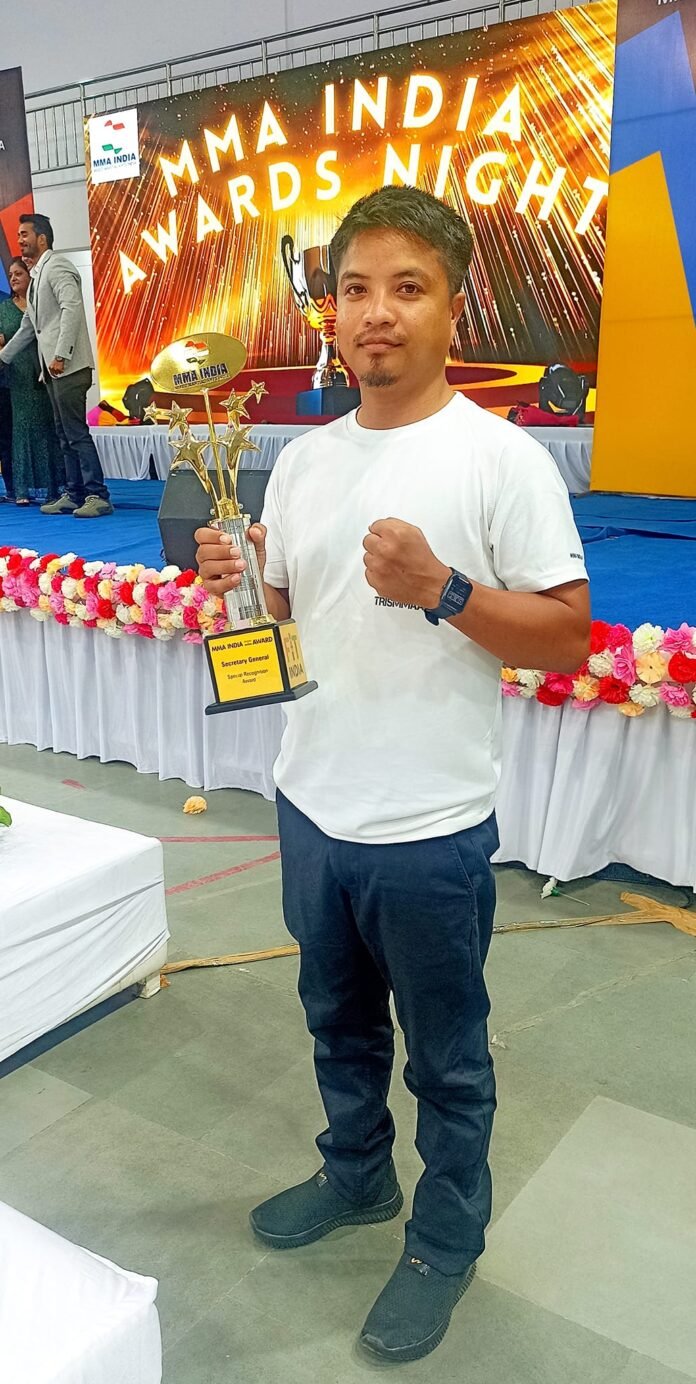 TRIPURA, INDIA – In a momentous event held, MMA Tripura was honored with the prestigious Secretary-General Award for its exceptional performance and unwavering dedication in the face of numerous challenges. The award was received by Kru Raymond Bongcher, a renowned figure in the martial arts community.
MMA Tripura, a local mixed martial arts (MMA) organization, was recognized for its relentless hard work and determination in overcoming obstacles that came their way. The team's commitment to their craft, despite the many hurdles they faced, garnered them this well-deserved recognition.
Expressing their gratitude, a representative from MMA Tripura humbly accepted the award, acknowledging the support and guidance they received from MMA India. The organization's unwavering support and constant presence in its journey have been instrumental in its success.
"When I was on the verge of falling, they held on to me tightly, and when I was about to give up, they encouraged me," expressed one of the members of MMA Tripura. "This is the essence of MMA India, and I truly cherish it."
The recipient also extended their appreciation to the President, Secretary, and all the members of TRISMMAA, the governing body of MMA in Tripura. The collective efforts and solidarity displayed by the MMA Tripura members and the community played a vital role in their accomplishments.
The Secretary-General Award serves as a testament to the indomitable spirit and perseverance of MMA Tripura. Their dedication to their craft and ability to overcome challenges have not only brought honor to themselves but also inspired aspiring athletes in the region.
The recognition garnered by MMA Tripura showcases the potential and talent present in Tripura's martial arts community. It highlights the significance of fostering a supportive environment and providing opportunities for athletes to flourish.
As the euphoria of this remarkable achievement subsides, MMA Tripura stands poised to continue its pursuit of excellence. Their journey serves as an inspiration to all, reinforcing the belief that hard work, determination, and unwavering support can lead to extraordinary achievements.
MMA Tripura's remarkable accomplishment will undoubtedly leave a lasting impact on the local martial arts scene, inspiring future generations to strive for greatness and conquer any challenges they may encounter along the way.